Weekly poll results: the ideal weight for a phone is between 140g and 170g
For most people, the ideal weight of a phone is between 140g and 170g. We were surprised to see how many people commented on our poll that "lighter is better". There's a sort of stigma around light phones – the heavier handsets just feel more durable.
Of course, that is mostly an illusion. A phone made of polycarbonate will like outlive a metal phone while being lighter. But "plastic" doesn't sell phones, metal and glass do – just look at a list of the best-selling phones.
Many people did say that weight is a secondary concern. And it's true that battery and additional hardware add to the weight, but there isn't a strict correlation between weight and battery capacity, e.g. 202g iPhone 8 Plus has a 2,680mAh battery. Or between weight and durability – the Moto Z2 Force with its shatterproof screen weighs just 143g, for example.
Plus, keep in mind that the cases most people put on their slippery metal-and-glass phones adds to the weight. Why did removable back covers fall out of fashion again? We still think they were a better solution than cases. Oh, well.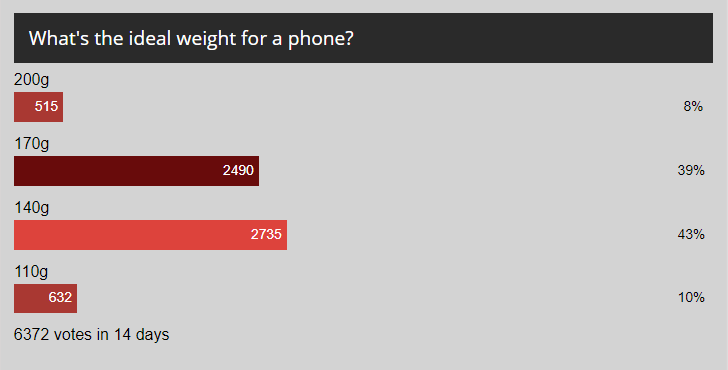 A
I understand what you mean. There are at least 2 types of disabling apps: - from settings > apps > disable what is allowed (nothing that could cause a bootloop will be available, so it's safe) - from terminal with "pm disable" or my favori...
V
Weight should not be anymore a concern, look at smartphone sizes, you can't expect them to weight nothing when they are huge. What we get from smartphones 150-200g is very acceptable
E
Interesting idea :) Though I bet that many that root their devices aren't "experts" (not even by their own standards). But just do it to get rid of some limitations. I would say that it requires a lot more insight to SENSIBLY decide what to di...