LG strategy seemed all over the place, but the scattershot approach has hit the bullseye – the LG V40 ThinQ got the approval of our readers in last week's poll, the vote was 3:1 in favor.
The company's firm commitment to the 3.5mm headphone jack and the hardware that makes it awesome (the 32-bit Quad DAC) have not gone unnoticed. LG's other passion, multi-camera photography won people over as well.
The V40 ThinQ is the first phone to offer both a wide-angle and a telephoto camera. Even that aside, the main camera has improvements over the LG G7 (larger pixels and a brighter aperture). And don't forget the dual selfie camera, that's an original V-series feature.
As usual, the phone got docked a few points for the relatively small battery capacity (3,300mAh) and the notch. These are two things that never fail to draw complaints. Also, some think that the price is too high, but LG phones drop a couple of hundred dollars just months after launch, so waiting a bit will make the price more palatable.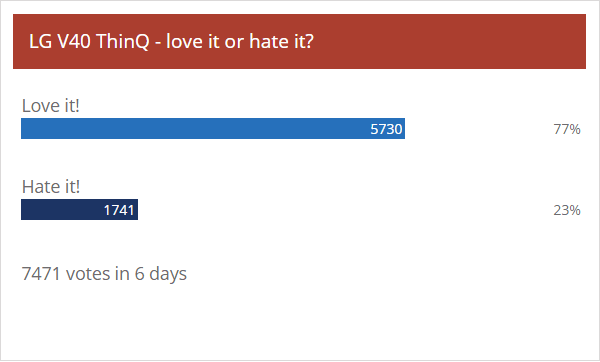 L
Like I said we have to wait for reviews to see how that works but my guess is when plugged in earpiece will be used for sound and even normal speakers collect dirt
?
What about when you plug it in to charge it.. unless you're gonna use wireless charging.. also even if it starts as good.. what happens when little bit of dirt and git get into the port.. they never seem to stay clean imo so if its good to start with...
L
There is also Mate 20X which has headphone jack, stereo speakers seperate from usb c, massive battery and cost as much as V40 and I agree NM card is stupid and there is no way to confirm audio through usb c embedded speaker will be worse