Weekly poll results: the Redmi K40 series is shaping up to be a hit, Pro+ comes out on top
An interesting division formed in last week's poll – most people are attracted either to the Redmi K40 or the Pro+ model. One side sees the vanilla K40 as a great value for money phone that will wipe the floor with mid-rangers based on the Snapdragon 700-series. The other side appreciates the higher end features of the top of the line phone.
The latter side came out on top as the Redmi K40 Pro+ was chosen by 1 in 3 voters. The lead over the vanilla model is slim but undeniable. The Redmi K40 Pro is noticeably less desirable, though it still has its fans. Overall the K40 series is shaping up to be a hit with nearly 85% positive vote.
6/128 GB
8/128 GB
8/256 GB
12/256 GB
Redmi K40 Pro+
-
-
-
CNY 3,700
Redmi K40 Pro
CNY 2,800
CNY 3,000
CNY 3,300
-
Redmi K40
CNY 2,000
CNY 2,200
CNY 2,500
CNY 2,500*
* special edition (pre-order only)
Early sales numbers are positive too as Xiaomi sold the first batch of 300,000 units in just 5 minutes (the batch was a mix of all three models). The next sale is scheduled for March 8, Monday, though it will again be limited to China.
Wider availability may be coming soon, though. Rumor has it that the Redmi K40 and K40 Pro will be sold globally under the Poco F3 and F3 Pro names (and as Mi 11X/11X Pro in India). The Pro+ model may be renamed Xiaomi Mi 11i instead. There is no official confirmation from the company yet and no time table or pricing for these models.
What could have Xiaomi done to improve the K40 series? Optical Image Stabilization kept popping up in the comments, but we guess if you want a 108MP sensor with OIS then you'll have to go for the Mi 11, which is only slightly pricier than the K40 Pro+.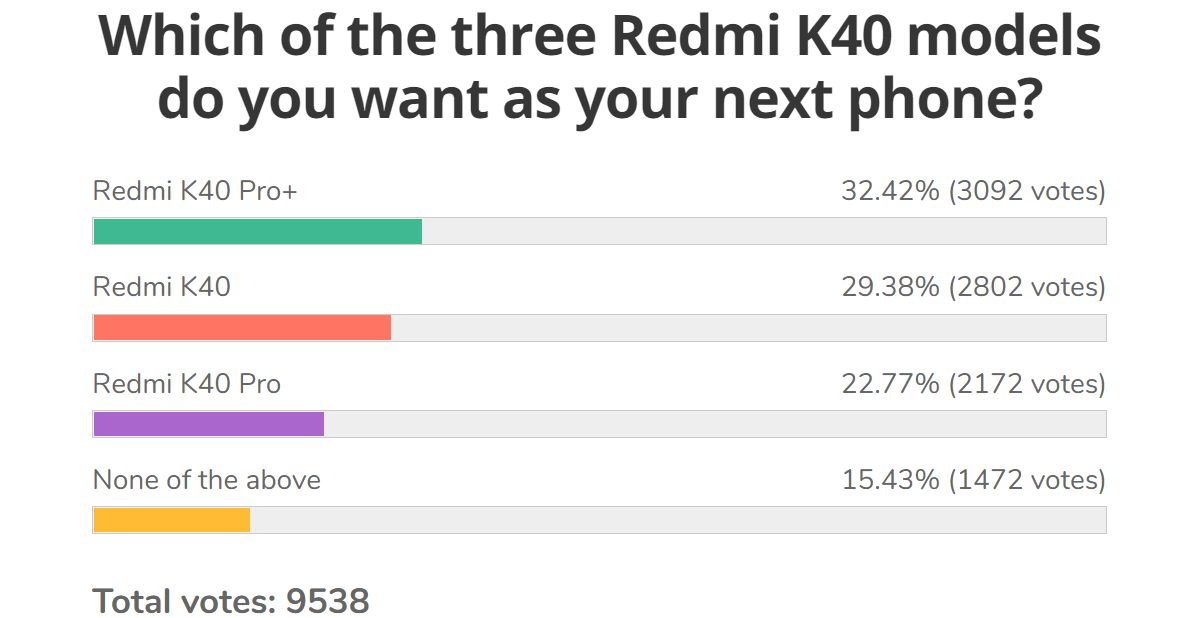 4
I imagine Pro+'s HM2 sensor to be much inferior to famous Samsung HMX (Mi10, Mi11, Mi Note 10, Mi 10T Pro) so what's the point of getting Pro+? Difference in photo quality between K40 Pro and K40 Pro+ will be minimal to nonexistent. IMX686 ...
c
Only launch....no distribution.....
ADVERTISEMENTS