Weekly poll results: the Samsung Galaxy S20 FE gets embraced by fans
Last week's poll shows that the Samsung Galaxy S20 FE lives up to its name – it's a fan favorite, at least the 5G version is. Even if you don't care about the next-gen connectivity, this is the first Snapdragon-powered S-series phone in quite a while to arrive on the Old Continent.
As for the 4G version of the Galaxy S20 FE, that has its defenders too – it's the cheapest S20 model right now and the Exynos 990 is a solid performer. Still, the Snapdragon 865 powered phone got just over 51% of the vote while the Exynos model secured only about 15%, it's clear which of the two is the preferred version.
At least that's the version people wish for, it's not always the version they can get. India is stuck with Exynos (likely due to the lack of domestic 5G networks) and we even saw some reports that not all of Europe is getting the Snapdragon – it seems that the Baltics only received the 4G model. At least it should be relatively easy for locals to import from a Snapdragon country.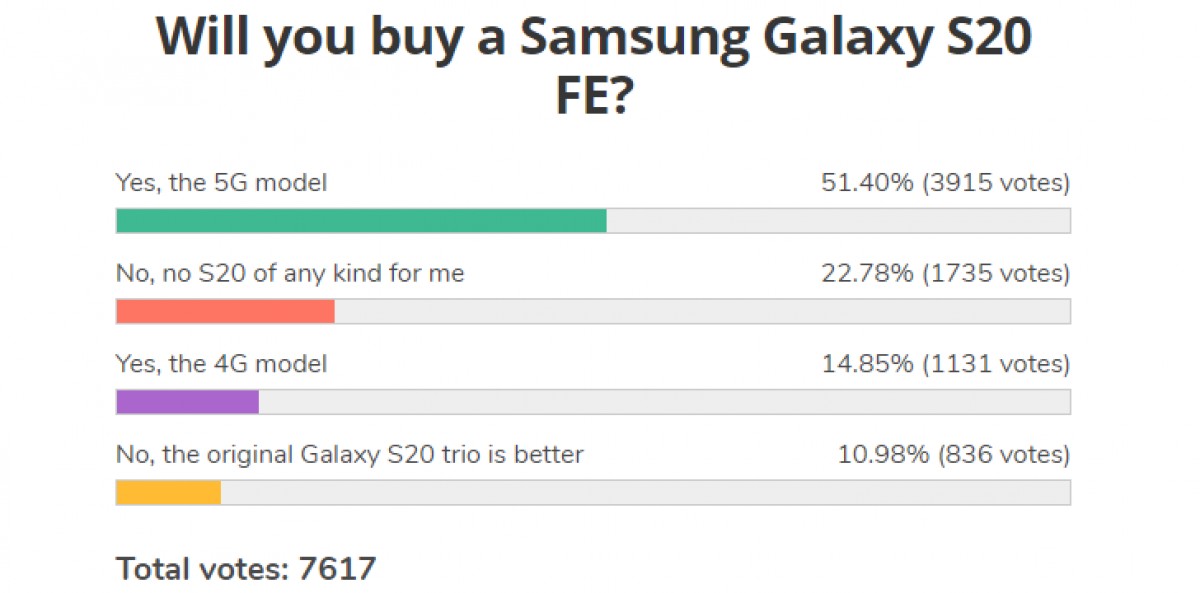 How does the Fan Edition fare against the original Galaxy S20 trio? Pretty well, most people prefer the new model – again, price plays a big part. The phone is $100 off in the US (making the gap to the vanilla S20 and S20+ even wider) and Samsung has some alluring trade-in deals.
Plus, it's still not to late to get one of the pre-order goodies – 3 months of Xbox Game Pass Ultimate and a wireless gaming controller (though you choose something else too).
F
Why no implementation of the Bluetooth aptx HD codec?
T
This is not a Fan Edition This is Exynos Edition Samsung tricked indians with Exynos processor again so seems they are not taking indian market seriously. As 5G phones are trending with other flagship brands but samsung is working on their beni...
s
This is not moving forward. There's amazing wired earphones out there with great quality. This is simply money grabbing. Dispensing with a feature that could easily be included simply to be able to cross sell own brand manufacturer airbuds and a...