While they are exceedingly rare, it's the telephoto cameras with 5x optical zoom that people want. That option was the clear favorite in last week's poll.
2x optical zoom was declared nearly useless as 48MP cameras are pretty common in the mid-range and up, plus there are already a number of phones with 64MP cams. These high resolution sensors can do 2x digital zoom (usually the fancier "hybrid zoom") while maintaining decent quality.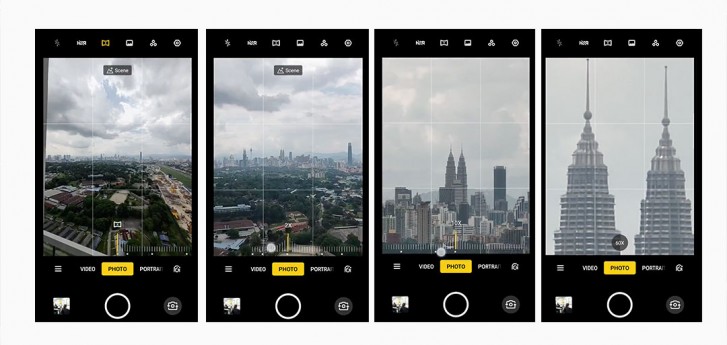 Keep in mind that zoom cams typically have narrow apertures and small sensors, so "optical" zoom isn't always a mark of quality – especially in the dark. Also, as we noted in the poll, current smartphone tele lenses have a fixed focal length while hybrid/digital zoom with a high-res sensor can be varied smoothly.
Also, the market launch of the first phone with a 108MP sensor is just a days away. Xiaomi detailed the penta-camera setup on the back of the Mi Note 10, which will be unveiled on November 14 (that's for the global market, the phone is coming to China next week as the Mi CC9 Pro). The Mi Note 10 is also interesting as it will be the first phone with two telephoto cameras.
3x zoom is a solid middle ground between 2x and 5x and it put up a good fight, earning a third of the vote. Still, half of the votes went in favor of the longer focal length. Even 100+ MP sensors will have trouble doing a 5x zoom without a drop in quality, so there's just no substitute for optics here.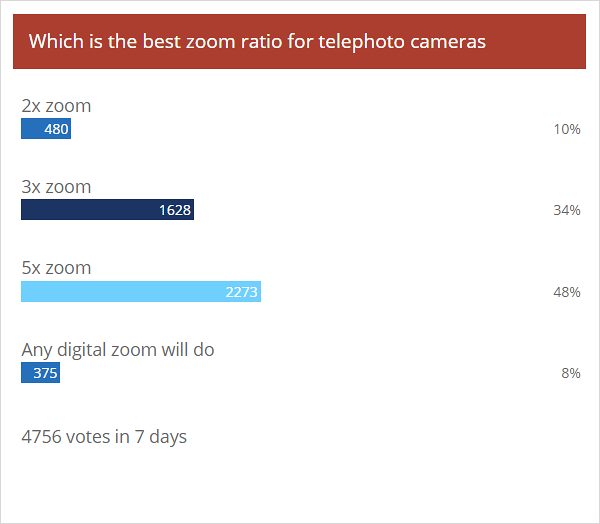 While Xiaomi may be the first to launch a phone with a 108MP camera (and 5x zoom), early rumors are that Samsung is preparing a similar setup for the Galaxy S11. You can bet other brands have similar plans for next year as well – we've had it really good until now, but 2020 is shaping up to be the best year for smartphone photography.
Amount of data is the same if you want hdr from multiple exposures, not just look alike, its just that in high res quad bayer sensor you can cut down time as it can do more than one exposure at once. Think it was shown with p20pro long ago already...
Though I would welcome low res big sensor as option for better colors, in the end hi res sensors are way more better from smartphones as it cuts down noise and time to do hdr stacking. But even on full frame / apsc size new sensors comes with high...
ADVERTISEMENTS