Weekly poll results: Xperia XZ2 compact just edges its larger brother
It was a close race and the outcome was slightly unexpected – the Sony Xperia XZ2 Compact beat out its larger sibling by a narrow margin. Some think it wears the Ambient Flow design better. Others acknowledge that there's not much choice in the petite flagship market, which makes the Compact special.
People voting for both sides agree that dropping the 3.5mm headphone jack wasn't the best move by Sony. And not everyone loved the new design. Price was a surprisingly touchy issue, given that the XZ2 Compact is one of the most affordable Snapdragon 845 phones at the moment.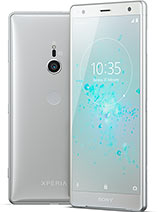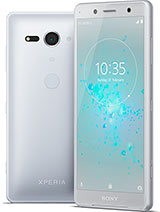 Sony Xperia XZ2 • Sony Xperia XZ2 Compact
As for the bigger Xperia XZ2, it may have gotten almost as many votes as the Compact, but it didn't have nearly as many vocal supporters in the comments. Actually, we kind of got the impression that some people are holding out for the Premium version, especially one with a larger screen. 5.7" aren't that much on an 18:9 screen.
But we won't see a XZ2 Premium for a few more months. Until then, it looks like the Xperia XZ2 Compact will be the breadwinner of the XZ family.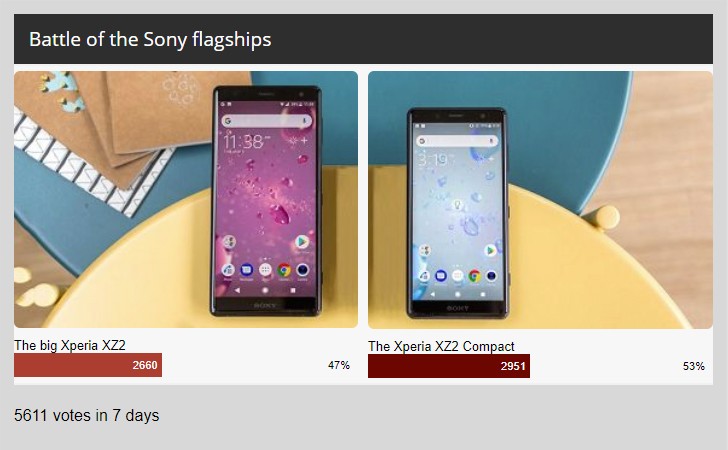 M
Sony Is the worst phone with boatware
b
The compact one is extremely awesome even though there are a few shortcomings like dropping the minijack or using a combined SIM/microSD slot. The big one is okay, but it looks worse, and the competition between large phones is much fiercer. The comp...
G
Screen diagonal 5.5 inch compact, 5.7 inch medium, 6.0 inch large, completely bezel-less, 16:9 aspect ratio, 300 ppi screen density, same battery capacity, fingerprint sensor on the back, infinity display.