You, our readers, are a savvy bunch and you like to make informed decisions. That's why most of you have decided to wait out the first reviews of the Sony Xperia XZ Premium before you spend your hard-earned cash. The people in the "wait and see" camp outnumber the "pre-order" group by 3:1!
Though it is fairly clear that Sony fans have an appreciation for the XZ Premium, it is strongly preferred over other Sonys. About a third of voters are seeking other brands, but half the vote went to Sony's flagship - predicated on living up to its lofty promises, of course.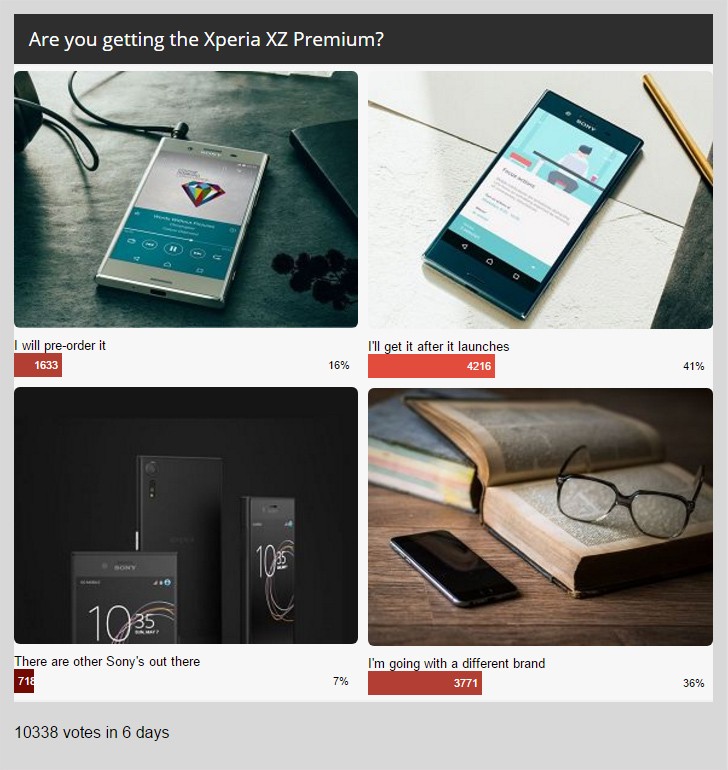 Looking at the comments gave us a clue why some hold Sony in such high regard - it's the longevity of its flagships. Many Xperia veterans attested that even after 2+ years, they keep chugging along with no major issues or slowdowns.
Well, we can't say how the Xperia XZ Premium will hold up after 2-3 years (we'd need a crystal ball for that), but pretty soon we will publish our review of what the phone is like today.
D
What is this adaptive stuff you're talking about. The only thing new here is the hdr it's still the same old ips lcd 4k we've seen before. If you go see the s8 in person the display really looks amazing
z
sony cervice centre poor service
?
SAMSUNG S8 and S8+ display tech is last year technology. The Xperia XZ Premium is using the Adaptive Tone Mapping tech to making the viewing experience perfectly to show the realistic colors in any lighting environment. Fyi, there are much more...