Weekly poll results: zoom cameras need to start at 3x at least, variable focal length is preferred
Last week we asked you about your ideal zoom camera setup and the poll makes it pretty clear that continuous zoom lenses are the future. Fixed focal lengths work well enough for the main and ultrawide modules since they often have high resolution sensors (on flagships, at least), allowing them to crop in if an intermediate zoom level is required.
A continuous zoom lens will give you the flexibility to frame your shot as you want it without having to "zoom with your feet" (which isn't always possible). The question now is what range should the lens cover?
Smartphone makers should follow Goldilocks on this one – not too much, not too little. The most popular answer was continuous zoom starting at 3x, which is around 75mm (most smartphones these days have a main camera with a 25mm or so lens).
However, nearly as many people want to zoom to start at 5x (125mm or so). This will make for greater maximum magnification, but stretches the main sensor thin as it's asked to handle the 1x to 5x range.
Sensors that can do 9-in-1 pixel binning offer high-quality zoom up to 3x. Yes, it's "digital" zoom, but that term usually applies to upscaling a low resolution image. A sensor like the HM2 genuinely has the resolution to crop out a 12 MP image out of the center to achieve the 3x magnification. There's no digital upscaling here, the biggest issue is instead noise reduction (since the pixels are small by necessity).
Using a dual focal length camera like on the Xperia Mark III series or just brute-forcing it and using two separate 3x and 5x modules is also an acceptable solution for some. However, these solutions are limited or take up more space.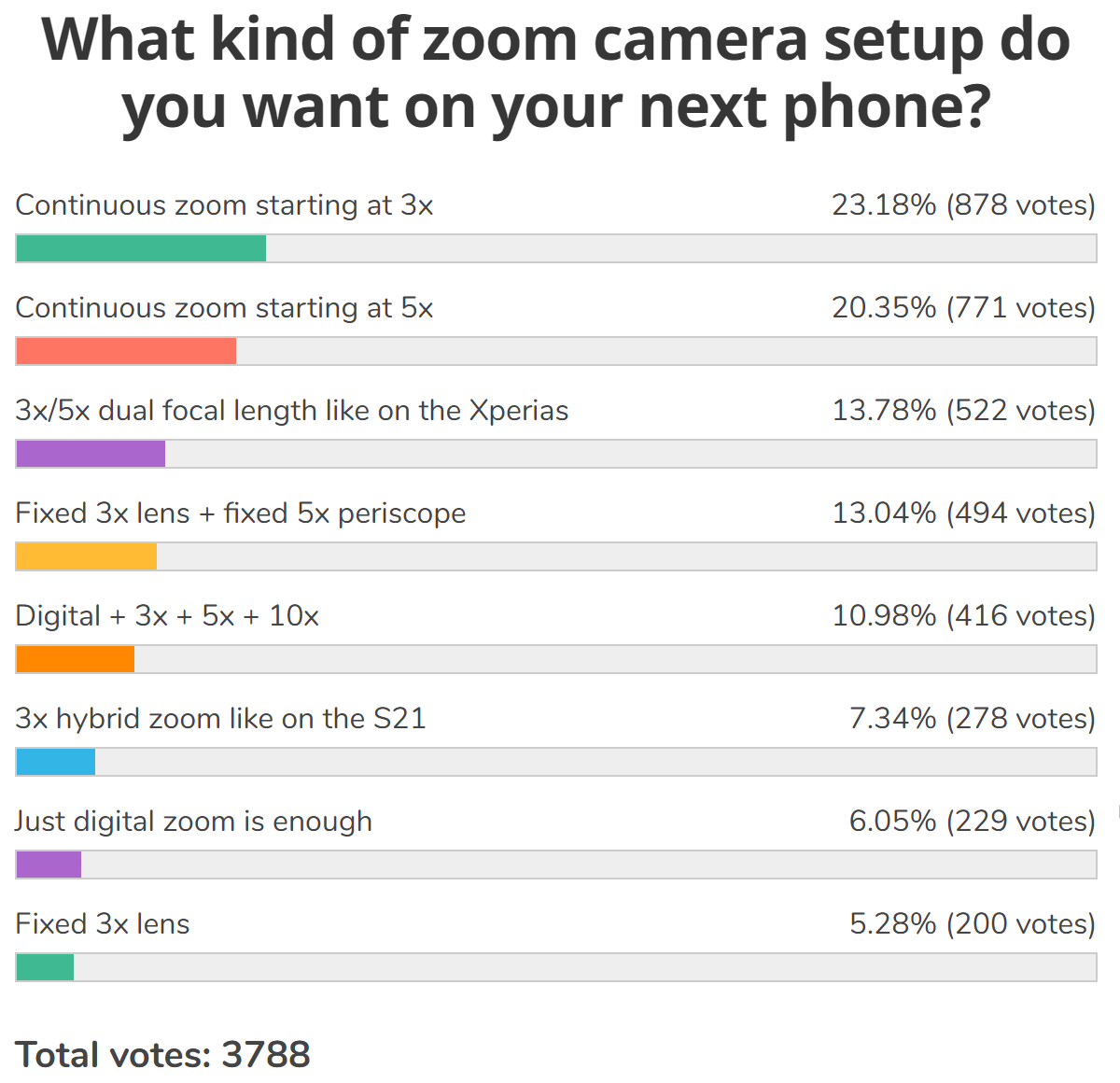 Continuous zoom cameras will become more popular if manufacturers figure out how to miniaturize a variable focal length periscope and make it both cheap and reliable. Those aren't new, we've covered phones like the Asus Zenfone Zoom in our Flashback series. The periscope on that one was impressive as it covered the 28-84mm range and fit in a phone that was just 12mm thick, even if that's considered quite a lot these days. Hence the need for miniaturization. The "cheap" and "reliable" parts are self-explanatory.
?
get a 100$ phone if you want gps on your bike, problem solved
"Sorry, but mirrorless camera aren't reliable" Lmao. If you're insinuating that phone cameras are more reliable than mirrorless, then that's a nice joke. When you think Mi 11 Ultra > Sony A1
ADVERTISEMENTS