People are optimistic about having a third smartphone OS on the market – last week's poll shows that 2 in 3 voters think that Huawei's new HarmonyOS looks promising. The new version of the OS is already in the hands of over 10 million users and the AppGallery boasts 134,000 apps they can choose from.
The most common criticism we heard was that HarmonyOS (at least on smartphones and tablets) is a fork of Android. That seems to be the case, though Huawei claims to have a significantly different architecture on the inside.
We don't see it as a deal-breaker either way. In fact, it may have been the only viable option – those 134,000 apps weren't written in the few days since HarmonyOS 2.0 launched. Also, it would have been practically impossible to port a brand new OS to 100 old devices.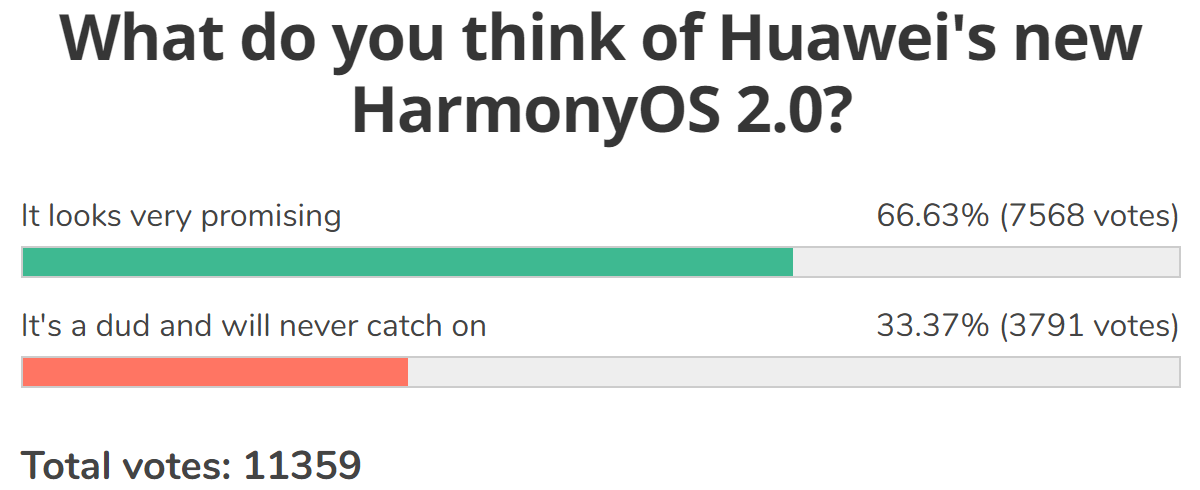 An Android fork isn't glamorous, but it works – FireOS, Amazon's Android fork, outlived Windows Phone. And the lack of apps was a major pain point for Microsoft's mobile OS. BlackBerry tried to add an Android runtime to BBOS, but that had issues with compatibility, so it wasn't a silver bullet.
Now the billion dollar question is what Huawei will do going forward. Will it stick close to Android or start to diverge HarmonyOS into its own thing? If it forges its own path, it will benefit from having complete control over the platform, instead of having to use Android, which is a middle ground between all makers.
For that approach to succeed, however, it will need a solid user base and an Android fork makes for an easy start. Huawei already has a massive user base in its home country, but how quickly it can expand to foreign markets is another billion dollar question (HarmonyOS is already in Europe thanks to the Huawei Watch 3).
A
Harmony os is not an android fork. It has its own apps. There is Harmony os section in App Galerry, for its own apps. The case is that this os just have native support for android apps for now! As just there is a ways to use android apps on windows.
?
It depends where you are. If you are fine without GMS, then any option should be fine. If you are using GMS, then Xiaomi is safe for now. You can sideload GMS on HarmonyOS like others tried but not advisable for you if you are not a techy type, no gu...
L
I would be disappointed as well if XiaoMi is using this OS. They would lose their competitive advantage if moving to Harmony OS. If both the two manufacturers are using the same OS, what is the point should I buy XiaoMi instead of Huawai?