Weekly poll: Samsung Galaxy S6 edge+ or Apple iPhone 6s Plus battle it out for fan love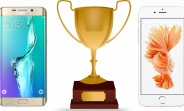 No toying around with this duo. We are now in the big leagues, the phablet finals, if you will. This week we pit the Samsung Galaxy S6 edge+ and the Apple iPhone 6s Plus against each other in an explosive battle for your affection.
Judging from experience, we do know the whopping "flame-war" this week's poll could unleash, but before you head on over to the comment section to declare your allegiance, we urge you to be good sportsmen and make this a clean and unbiased fight.
There is no doubt about it – the iPhone 6s Plus is Apple's new crown jewel. With all the bells and whistles like 3D touch on a spacious screen and an OIS-enabled camera, it is the best Cupertino currently has to offer. The same can also be said about the Galaxy S6 edge+ - its cutting edge Exynos chip and 4GB of RAM max-out what the Korean giant currently has to offer, but so does the Galaxy Note5. However, considering the latter's still limited international availability and productivity S-Pen features, we do believe the S6 edge+ is a more direct counterpart to the iPhone.
If you want to know more about the opponents, you should check out our shoot-out between the pair, complete with all the facts and data you can need for an educated decision.
C
iPhones are way better! Samsungs just copy apples. They copied Siri, the finger touch(i think) and more! Also the reason why Samsung note 7 came out before iPhone7 way because Samsungs aren't taking their time, but apples are trying their best
U
Sorry, iPhones aree better.
M
iPhone is better sorry Samsung but iPhone is just better the iPhones got the App Store and Samsung has Google play I hate Google play, some people probably like Google play but I don't that's my opinion. And if Samsung is more popular and more people...