Doesn't everybody love a good pixel war? Just a decade ago QVGA (320 x 240 pixels) screens were considered high-res and now you can even find 1080p displays on phones under $200.
We even saw a 4K screen in the meantime - the Xperia Z5 Premium seemed like a VR fan's dream only Sony forgot to deliver a VR headset with it. Or was there more to the company's decision of reverting to 1080p for its next-gen flagship?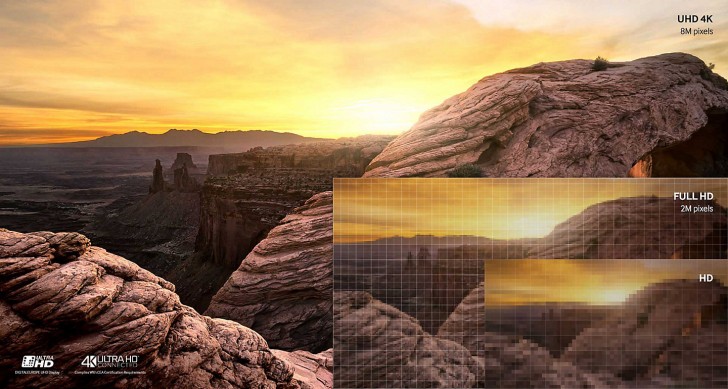 Anyway, we aren't here to discuss Sony's device strategy, but merely ask your opinion on what is the ideal resolution.
720p is a clear favorite when it comes to energy consumption and it also strains the GPU the least, so you can save extra power there. But it certainly lacks sharpness on those phablet screens.
1080p used to be the middle ground and for those with less than perfect eyesight it's probably as sharp as they can see anyway. Then again, even Huawei has finally started to shift to QHD after years of saying that more pixels just waste battery.
QHD is where most flagships have been for a couple of years now and it will probably be what the most popular phones will use this year too. The question is if the sharpness boost is worth the extra power consumption and the requirement for more investment in GPU. Samsung even gives you the option to reduce the rendering resolution of its QHD flagships lately so it seems even manufacturers aren't quite sure about that.
Finally 4K - while it's certainly an overkill in most uses, but with VR rapidly gaining popularity it might start to make sense again. After all if you split the pixels in half so each eye sees a different picture and put them a few centimeters away from your head even the 577ppi Galaxy S7 looks very pixelated.
Now cast your votes and come back next week as we announce the results.
Screen resolution strengths
D
I think this depends on size a lot. screens between 4-5.5 inches are good for HD or FHD. Screens larger than that are suitable for 4k or QHD.
D
You shoud check out Sony's compact series.
F
One-hand device for me, 4.5" - 4.7" max, 720p or 1080p. Shame there are no such devices around with nice design, specs, battery and low price.