Weekly poll: under-screen cameras are nearly here, but are they better than flip-up cams?
About a year ago we asked you to weigh in on the under-screen vs. flip-up camera debate. Under-screen cameras won a resounding victory, however due to technological challenges they are yet to make their ways to smartphones.
That should change soon as ZTE will unveil the Axon 20 5G on September 1, which will be the first phone to take these invisible cameras past the prototype stage. We've seen renders and it does look pretty neat.
However, Asus also posted a teaser of a phone with an unblemished screen – the Zenfone 7 will use a flip up mechanism to rotate the rear camera into a front-facing position, just like the Zenfone 6 did.
The problem with under-screen cameras was image quality. A Xiaomi VP explained that it's hard to match the image quality offered by traditional cameras when the lens has to peer through the dense matrix of pixels of the display. Presumably ZTE has found a solution, but even if it matches the quality of a typical selfie camera, it would still be behind the Asus.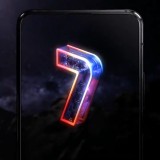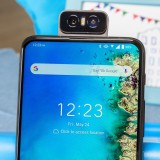 Asus Zenfone 7 teaser • the Zenfone 6 with its camera flipped up
The Zenfone 7 is expected to feature a 64MP Sony IMX686 image sensor (1/1.72", 0.8 µm pixels before binning). And that camera will be aided by an LED flash and a 3D ToF sensor. Last year the Zenfone 6 topped the charts for selfie photos and videos with a similar setup.
Of course, flip-ups have downsides too, like they can't be waterproofed (or at least it will be a hard and expensive excercise). There's also the worry about the durability of the mechanism, but flip-ups and pop-ups proved themselves quite reliable now that they've been around for over a year. Another downside is that face unlocking is too slow to be useful.
Still, the question remains – do you prefer an under-screen camera or one mounted on a flip-up? Note that this poll isn't about ZTE vs. Asus, Axon vs. Zenfone, it's more about the general design of phones - these two are just the most relevant examples of either design right now.
?
Nobody expected Alpha to be a seller. More like a prototype. Still, IF this was cheap for masses I'd not complain phones look this way. Sadly Idk, I had no chance to test it just a little glance :(
w
I think Xiaomi knew alpha was both too pricey and also fragile in its design so it won't sell well. If i had to choose to have that side screen, I'd probably buy huawei foldable. Nubia z20 is almost perfect for me. The software i...
ADVERTISEMENTS