MIX11, Microsoft's developer conference devoted to all things Windows Phone, announced the latest features that developers will be able to get their hands on for free from May.
Among other things, Joe Belfiore (Corporate VP for Windows Phone Program Management) spoke of the new functionality made open to devs including multitasking for background programming, audio and file transfer and fast app switching (including audio playback for HTML5 webpages).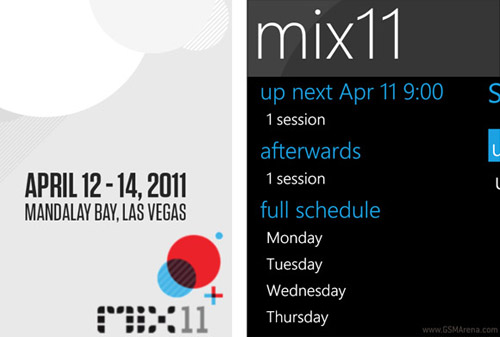 Deep phone integration is also on the cards meaning, WP7 users will get to see more apps making use of Live Tiles and push notifications via Live Agents running in the background. Hardware access is more readily available as well with new access to the camera and sensors (the gyroscope and compass) via the Motion Sensor library meaning apps can make greater use of your Windows Phone's hardware.
Belfiore also made a brief mention of the Windows Phone update issues that had plagued some users (namely those with Omnia 7's) before welcoming Nokia's Symbian developers and going on to demo accelerated webpage rendering against iOS and Android.
To show just how useful all these new tools could potentially be they followed up the announcement with some demos, including concepts of Spotify, Layar, Qantas and even Skype.
The VoIP giant that was initially cited as being "nowhere near" Windows Phone 7, now looks to be coming to users as soon as summer this year. Belfiore was quoted saying, "Skype will be coming to the Windows Phone 7 platform this fall" so there's no doubt that it's on the way and this all means another step to making Windows Phone a stronger OS contender.
d
agree,, its very logic. Nokia has bundling business with Whatsapp in indonesia, they appeared on the same advertise together. so when Nokia-WP7 hit the market on this end of year, i will not b surprised when Whatsapp already built in all new handsets...
?
It will be. They didnt mention it because mix is a developers conference and they didnt mention much on the consumer side of mango. More should be revealed at PDC in september.
A
Seems like Nokia is really squeezin WP7, WOW!!, just a few months of alliance and we hav Mango (juice?!) with true WP7, something HTC, LG, Samsung etc couldnt do. Well, looks like d future Microkia products will be something i personally, have to ...
ADVERTISEMENTS