WhatsApp for iOS now does photo filters, albums, and reply shortcuts
Despite the fact that they're all owned by Facebook, if you compare the frequency with which Instagram and Facebook Messenger add new features to WhatsApp, well, the latter doesn't fare well at all. That said, today might be the day when WhatsApp starts trying to get with the times in this regard.
Its iOS app has received an update that brings three new features with it. First off, when you share four or more photos or videos they will be automatically grouped together in an album. This should make your chats look more organized, since you won't get that view showing multiple in-line items anymore. This used to get bothersome when many photos were involved. Not anymore, though. To view everything that was sent, just tap on the album.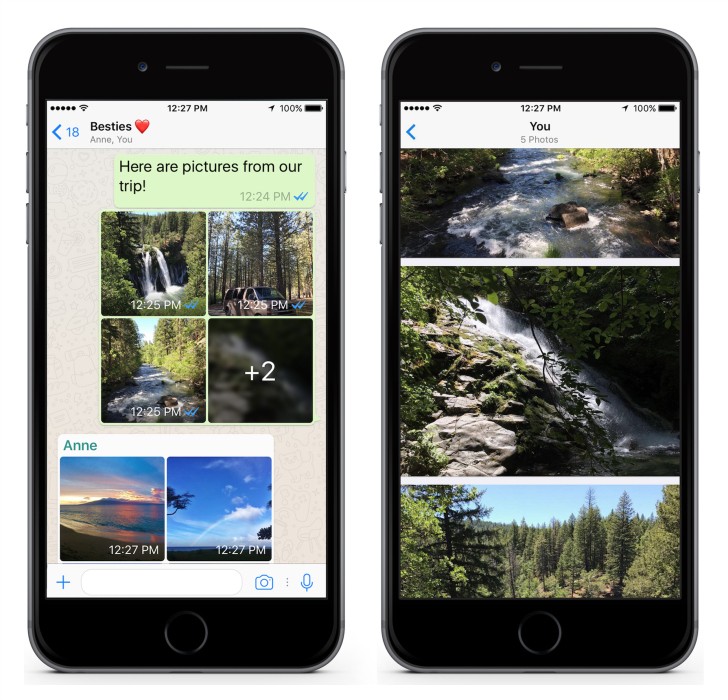 Filters for photos, videos, and GIFs are now a thing inside WhatsApp's camera. There are only five of them at the moment, but you have to start somewhere. We assume WhatsApp may add more in the future.
Finally, a new reply shortcut feature means you can swipe right on any message in order to quickly jump in and start typing a reply to that specific message. This seems like it could be most useful in group chats, where sometimes it's hard to tell who was replying to what.
These things are all live right now in the latest version of WhatsApp for iOS. Unfortunately there's no telling when (or if) they will make it to other platforms.
D
And yet iOS has fewer issues with updates than Android. The number of reviews I see on android where an app gets voted down because an update has broken it or introduced instability is countless. With the exception of Snapchat, I don't see it on iOS....
D
Lol I'm not blaming anyone. I'm just trolling because whenever there is an Apple article, all the haters feel the need to comment boring criticisms. Its a well known fact now that iOS gets updates for its apps before Android. Even Google update...
ADVERTISEMENTS