WhatsApp rated world's most popular Android messaging app; BBM least downloaded
According to a new report from digital analytics firm Similar Web - which analyzed Android data from a total of 187 countries - WhatsApp is the most popular app in the world, claiming 109 countries, or 55.6% of those surveyed.
Some of the countries where the Facebook-owned messaging service leads are Brazil, Mexico, India, Russia, and many other countries in South America, Europe, Africa, Asia, and Oceania.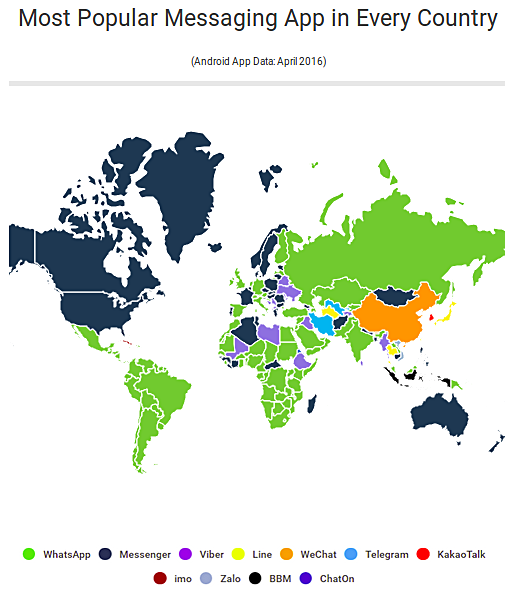 The second spot was claimed by the Facebook Messenger app, claiming a total of 49 countries including Australia, Canada, and the US. So, in all, there are more than 150 countries where Facebook has command over the mobile messaging space.
Viber, Line, and WeChat rounded up the top five, with Telegram coming at number six. Out of these, Viber is the only app that leads in 10 or more countries. It is popular is Eastern Europe, and leads the market in regions including Belarus, Moldova, and Ukraine - in Ukraine, Viber was found installed on 65% of all Android devices.
Among the apps that claim only one country is BlackBerry's BBM. It's only popular in Indonesia, but it has a market share of 87.5% there - this compares to 0.42% share in the US. The other apps in the category include KakaoTalk, imo, Zalo, and ChatOn.
?
BBM is by far the best messaging app out there. A lot of people left BlackBerry after the media hammered the snot out of them with false information and rumors. Anyone interested in privacy and confidentiality will recognize the superiority of BBM ov...
D
So many messaging apps, they all do practically the same thing some a little better than others. Heck I barely use FB messenger and that's the most popular one here apparently. I do like Telegram though just don't know that many people who use it.
ADVERTISEMENTS