This year, the biggest new feature that landed in the popular WhatsApp messenger was support for making voice calls. Now that this has been implemented, it seems like Facebook is looking forward to the next thing it can bake into the app. And this could in fact be something that Facebook Messenger can already do, namely video calls.
According to a report from Germany, the latest private beta versions of WhatsApp for iOS have video calling support built-in. You can see a couple of screenshots of the new functionality below. During a video call you can mute your microphone as well as switch cameras, and the small square that shows your video can be moved around freely.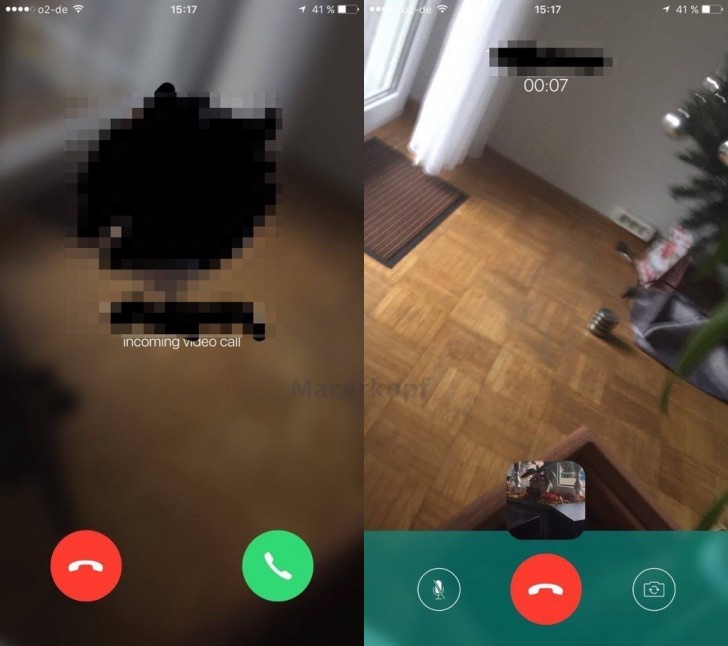 The new feature is in testing, and will apparently make its way to the public in the coming weeks. When it lands, video calling support will make WhatsApp an even bigger competitor to Skype than it was before.
Alongside video calls, a future WhatsApp update shall also sport a new design, with a big focus on the color green. What's more, some sort of tab-based UI is said to be in testing. Tabs should make switching between different conversations easier than before, as you can jump from one tab to another directly, without having to go back to the conversation list first.
?
Awesome post, as always. I love your writing style. I like this post, Thanks for sharing this valuable information! I really use full this post. Well explained! Thank you very much!! . Whatsaap web Calling
ADVERTISEMENTS