The iPhone rumor mill keeps heating up today and it seems there's no stopping it any time soon. We came across some blurry shots of a white iPhone-wannabe with a much thinner bezel and a bigger display. Oh, and it's white!
Here are the shots themselves.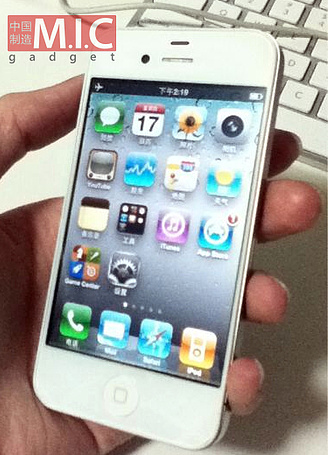 The overall design doesn't seem that different. There's still a metal frame around the device, most probably acting like an antenna, a front-facing video-call camera above the display and what looks like the same overall size.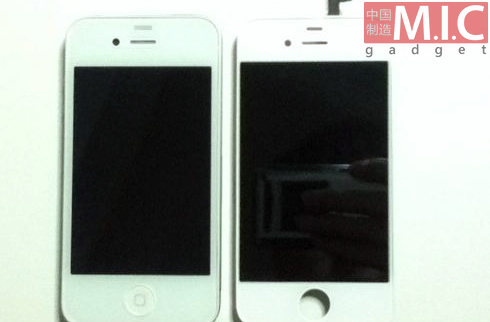 The white iPhone 4 next to an alleged next-gen iPhone front panel
The photos are of a pretty bad quality so the possibility of them being fake is present. You can easily create the same looking device using Photoshop, so don't get all excited, at least for now.
However to add a bit of credibility to the shots, we noticed the missing spotlight icon in the bottom of the screen right next to the dots that designate the available homescreen panes.
The absence of the Spotlight icon next to dots however strangely coincides with the unnamed iOS version showcased in the video below. It was published last week and it shows a new multi-tasking interface, which has Spotlight integrated right in (hence the missing icon).
All this could mean that apart from having a bigger screen and thinner bezel, this device might also be running a newer, unreleased iOS version. Perhaps it's event the rumored iPhone 4S prototype that was sent to selected developers with the dual-core A5 chip inside?
The next generation iPhone already has a lot of rumored design options. We'd really love it if the bigger screen pans out.
V
Just iPhone 4s, still think best iPhone ever
n
Heya i had the iphone3gs and then i got the iphone 4 i was comppletely in love with it, then my sister got the htc deire hd and i fell so in love with that phone that i did a straight swop it has better im just saying this because evryone presumes th...
E
Well, i'm using Ip4 right now.before,i was using Nokia N97 n before that i was using SE P1i,P990,P910,P900 and a whole lot more.after using the allegedly broken device, something astounded me by each device performance.what i notice is,even if you ...
ADVERTISEMENT