The Samsung Galaxy S II is getting new garbs in the UK - it will be available in White now as well the original Black starting today. The rest of the specs (4.3" SuperAMOLED Plus screen, 1.2GHz dual-core CPU, 8MP camera and so on) are unchanged.
The white Galaxy S II should be available through all major retailers and it should start appearing on their sites and store shelves today. In case you missed it, you can check out more views of the white version of Samsung's droid flagship over here.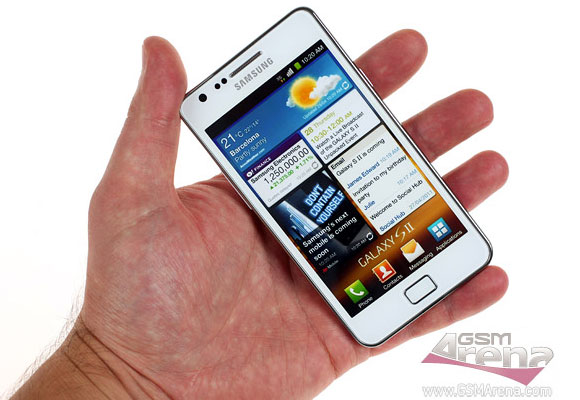 We checked the primary sites and most don't list it yet. MobileFun (where the white version showed up originally) still has it for £493. It's listed as Coming Soon even though it was supposed to come out in mid-August.
Amazon has the white Galaxy S II as well - they've set the price at £490 (the black one is £472) and there's a label saying that the phone will be released September 13th.
Now, Samsung's press release didn't say anything about a change in price or a delayed shipping date, so these pages might be updated soon to reflect the official announcement. Also, if you go through one of the big retailer stores and see a white Samsung Galaxy S II, drop us a line in the comments.
Update: Clove UK just put up the white Galaxy S II on their site - £492 and they've confirmed that it's coming tomorrow, September 1st.
Update, September 1st: In stock at CarphoneWarehouse too - £500 off contract or free on a contract (starting at £30/month). Phones4U has it too, for the major carriers. MobileFun updated their site - the white Galaxy S II is in stock now at £493.
D
Got white version for some time, performs nicely :), although since i got it many new smartphones have come out lol, even then this is still one of the best around :)
F
Anybody who has the choice would not buy a phone in 'Rip-Off Britain" My first phone maybe 13yrs ago was the only one. All my phones since have been bought abroad for much less, not tied to any network, not bundled with their buggy and limi...
D
This phone seeems cheap .
ADVERTISEMENTS