After all these years of manufacturing smartphones Nokia still has no Windows-powered smartphone. But that might change soon? In a recently leaked presentation on Nokia's software and services plans, the company mentions Windows OS along with the Series 40, Symbian and Maemo.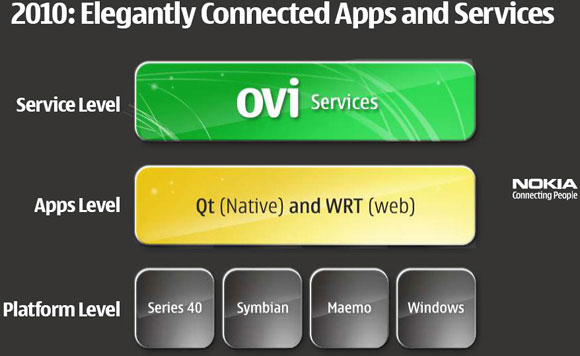 That could mean two things: Nokia are working on a Windows-based phone or it's just us who get that wrong. Maybe the guy who created the presentation, Jukka Kiiskinen, didn't actually mean a future Nokia phone but the currently available Nokia Booklet 3G which runs the Windows 7 OS.
However, even if a future netbook is meant, why would Jukka Kiiskinen throw Windows in the mix of mobile platforms? Weren't upcoming Nokia netbooks going to run MeeGo instead of Microsoft's operating system? Oh, and there was no word on MeeGo in the presentation.
It's not much but it leaves a lot of room for thought.
V
That's how Nokia killed themselfs
A
I was one of the many developer coming to the nokia workshop. The presentation there doesn't mention about window mobile OS. Instead, it is talking about the cross platform QT framework which will be able to support deployment to multiple platform, o...
P
That is good news from NOKIA working on a windows Phone. Coz this generation windows phone is much better than ......
ADVERTISEMENTS