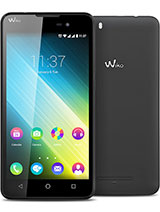 A
please the battery capacity is to small. it does not last up to 2 days. please try and improve on that.
x
gylgamesh, 25 Feb 2016But physically it should be able to use the largest microSDXC cards, up to 2TB. The largest AT... moredoes this phone support 4G
J
Well I think the phone is classic,I like the camera, even at 5mp it still looks like 13mp but I don't like the fact that the internal storage is just 4G and I would have equally appreciated it if the from camera had a led flash.

m
i need flash software i tried to down load it but i cant, if you can send them at mail mail. Lubegamo@hotmail.com i have wiko lenny
G
i think the phone is ok. used it for a while. but its slow in speed and i noticed it being wet from the sim chip. is it due to heat?
P
The phone is good. Only the battery I know doesn't last long but it's still manageable. But it can last for the whole day when not using it much. But when browsing with it for hours, it will last for just about 4-5hours.
S
AnonD-470164, 25 Nov 2015Just an observation: the device, according with Wiko oficial website, has 1GB of RAM Memory. ... moreGSM Arena take note, the ram is 1gb not 768 am using the same phone,i bought it yesterday,its a nice phone in it's price range, d 1gb works perfectly because almost all the apps I downloaded from play store goes to my sd card,d 5mp back Cam and 2mp front works great,infact I did not believe it's 5mp cam because of d image quality
D
Just an observation: the device, according with Wiko oficial website, has 1GB of RAM Memory.

Which one is better? This device (assuming that has 1GB of RAM), or Motorola Moto E LTE? I prefer this one, for the screen dimensions and thickness, but i want a second opinion (in what concerns to the chipset/cpu/gpu, battery life and performance).

Greetings from Portugal.
Total of 73 user reviews and opinions for Wiko Lenny2.