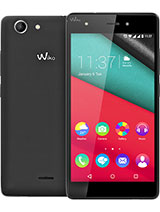 G
It's april 2020, and I had that phone since end 2013. The phone worked perfectly ever. When I needed to go beyond my regular use and I did not know how, the Customer's service support, always helped me with excellence. I will go to another phone just because the android version of my wiko pulp is obsolete for some applications that now I need to work with. I will now look for a wiko view 3 pro with full confidence.
?
I've had this phone for almost four years. I always had a protective tempered glass and a case, it survived falling down the stairs twice, and getting dropped on the ground tons of times, with only a few scratches. Very solid and durable, did everything that it was supposed to. Only problem ever was that it froze after years of not great treatment, but after a factory reset, it's still going strong.
B
Average phone..materials are plastic... And the front glass can break very easily...but yeah, for Facebook and WatsApp and that kind of apps works just fine... Btw its nota a córtex A7 but a A53.
O
Dont ever buy this phone, I have had it for more than a year, never was near doing what it's supposed to do except for the first hour after I bought it. Don't come close to Wiko brand, stay loyal to Samsung, Sony, Apple and so on, there's a reason you're paying more for those phones, and it's called QUALITY AND ENDURANCE. My honest advice, dont even consider on buying any Wiko phone, such an awful brand.
M
I bought this phone and I had to replace it 3 times and still can't work properly. The phone keeps freezing and I can't do anything with it, need to take the battery off in order to make it work again.
k
sofiane, 23 Mar 2016I wanna buy one but i'm afraid from it's performenence is it good enough ? and is it real cam... moreThe performance is good, it's balance between the price and the specs. Not a phone for gamers. Otherwise it does everything else smoothly. You can open as many apps as you want at the same time without closing any. Front camera is pure and sharp, it has front Led flashlight. The rear camera is truly 13mpxs, however the lense is plastic as other budget phone, it's not as pure as Nokia Carl Zeiss but it's OK for point and shoot travel.
D
This phone is a disappointment!! I am really sad i bought this, the camera is definitely not up to par at all I doubt its 13MP honestly. Its not worth the money for sure
s
I wanna buy one but i'm afraid from it's performenence is it good enough ? and is it real camera around 13 MP ??
Thanks in advance
D
I have Samsung S4 and it had problems so i bought a Pulp 3g 32GB version just to have something while my Samsung is being repaired. OMG!!! I'm selling my Samsung because this phone battery last 2X more, is more fluid, have 2 simcards, heats less in games and have 2X more eMMC memory so i can finally relax about the space on my phone. BTW, when they advertise that the phone have a special display that is workable at direct sun light, they dont lie. The problems that i have found is the camera quality that is arround 8Mpx, the weight is a bit, no home button that required me an adaptation, and the size of the phone is a little bit too much. Oww, and the screen resolution is OK, but a bit more would be better.
D
Please when will it be available in nigeria,anxiously waiting for it
N
I bought one smartphone Wiko Pulp and the manufactor says it have Corning Gorilla Glass 3. Can you tell me if that model have Corning Gorilla Glass 3 ?
Very Thanks.

Best Regards
Nuno
R
Now available in Spain. Bought my wife one for Christmas to replace her old Samsung. I liked it so much I sold my 3 month old Galaxy Grand Neo Plus for one of these. It's a great phone so far. Good feel, looks good, is fast, excellent price and most importantly isn't Apple or Samsung. Smaller European brands such as Wiko France and Energy Sistem here in Spain bringing out excellent value for money products. Viva Europa.
Total of 15 user reviews and opinions for Wiko Pulp.
ADVERTISEMENTS