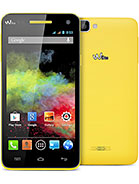 N
There are some things I wish I knew before buying it, so I will post them here: for whatever reason this particular phone (and all Wiko's) don't work with any Google Cardboard apps, they can't display anything but artifacts. It doesn't have a gyroscope either but this isn't related to the issue. It has some sort of rendering problem that noone with any different brand seems to have, when it comes to Cardboard VR apps. So if you're a VR enthusiast like me, don't get a Wiko phone.
G
It's very good for it's price. The screen is surprisingly nice, except to the touch. It always feels as if it's wet and sometimes, although rarely, doesn't detect when it's touched. The battery is the main issue, it drains awful fast. No gyroscope inside, and no offline GPS. Other than that, it's a high quality large phone, no major issues with it so far aside from the battery, I've had mine for a month.
D
No different from branded smart phones battery recharging necessary nightly but the pluses outweigh this. Excellent color camera, voice activation, Internet connexion, emailing, switching between i providers,dual sim slots, Sync old phone data easily , surprisingly handy. Easy to use, without reading operation manual.bought mine in Thailand, and I could not read thai, but not a problem. Spectacular price for so much functions of high end smart phones.
V
Wiko Rainbow. a good smartphone, worth to its price in UAE. Positives: good on net, camera, size, video quality, apps, games, colour, Micro SD slot & it has its own identity. Negatives: Battery hardly lasts for one or one-n-half day. I would suggest it for mid users.
z
how can I block a number? there is no option for it.. unless I download a software from the store???
p
kihapet, 13 Jan 2015how is the camera quality e.g evening indoorscamera quality is better in well lighted areas , pictures look great great event on mid lighted areas even indoors , but dont expect to get a masterpeace with this budget camera , at night camera quality is enough to make souveniers but its realy not that good , in general camera behaves like galaxy s3's which might be a little better especially on low light , forthe price camera is wonderful
k
AnonD-161699, 31 Dec 2014i have this phone for one week now , its a perfect phone for the price , battery life is the ... morehow is the camera quality e.g evening indoors
D
i have this phone for one week now , its a perfect phone for the price , battery life is the only downside of this phone , with a normal usage it can go through the day , with a limited usage it can get through two days but with a heavy usage it gets hard to pass the day , the phone has an update to kitkat , it comes with android 4.2 jellybean , camera quality is wonderful i'm satisfied realy i advice you to buy this phone
Total of 51 user reviews and opinions for Wiko Rainbow.