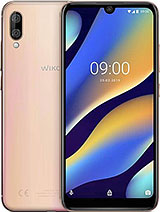 J
Wiko 19, 15 Oct 2021This phone is F ing bad. You will watch YouTube on it.You love Wiko Y80.
k
the battery is good. i got whole day battry life to run my normal daily task. but if your are heavy user it will last until late evening from 7/8am. for light use, i got almost 2 days of usage.
h
i buy this phone on july 2020. 4000mah battery is superb. on normal usage, 2 hrs of whatsapp, 3-4hours of youtube, 1-2hours gaming, fb a bit, insta a bit, 30min to 1 hrs call, start from 8am 100% bttry, at 10pm the battery is 20% balance. its really immpressive for me. if you use the phone just for whtsapp the whole day, you'll get 1 day full and next day untill noon to make the btrry drop to 10%. the only downside of this phone is its only have 2gb ram. not suitable for heavy gaming and a bit slow running the big apps. but for daily task it will do just fine.
Total of 5 user reviews and opinions for Wiko View3 Lite.