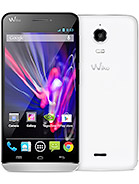 S
RikNeirynck, 09 Oct 2014I bought it and after just 2 weeks a small crack started to form in the left bottom of my scre... moreYou should have return the phone, if the lcd cracks and not the glass on top of it, case of guarantee.
This should not happen at aal.
T
Have had this phone about 5 weeks now, it is really excellent,great looks, very slim, loads of apps. Although the camera is 8mp I wouldn't say its the best around, however a downloaded camera app really improved things. Had a lot of trouble with internet settings so emailed France for assistance they told me it isn't being introduced to the UK until the end of first quarter & shops shouldn't be selling it,I got it online.it did take a bit of getting used to but now I prefer it to my iphone 4s which was just terrible on batteries, also a fraction of the cost, I paid £152.00
?
This is my first smarthphone and I have nothing but truble with this phone. This is my second wax in one month and I have the same problems than with the first one. Every day it blocks and doesn't react for a few minutes!If I could buy a new phone, I would never again buy this one.
R
I bought it and after just 2 weeks a small crack started to form in the left bottom of my screen. Not in the glass but in the actual screen. I did not drop it nor put pressure on it. The crack now disables the colour of around 1/4th of my screen. I went back to the shop and they say its not under warranty because it is so called "My own fault" but I obviously didnt do anything wrong with it. I was very content of this phone, good specs and he was fast, it was a very good phone for the price. But with all that you are nothing with production faults who fall outside your warranty.


i2
capucho, 19 Sep 2014between the wikowax and the motorola moto g (2014) witch one is better?wiko wax will perform higher than moto g (or moto g4)
i2
I wanted to buy a under 200€ smartphone, and after looking closely at different alternatives (Acer E700, Moto G, Moto G 4G, Xperia E3) i ended up purchasing Wiko Wax. It was a bit of a gamble, being an unknown french brand, but the tegra 4i got my attention. I'm so glad i did so.

If you want performance, get wiko. I got 29k scores in antutu vs 15/18k scores from the other smartphones i talked about.

If you want to save battery, tegra 4i comes with a 5th core created for that. It will use it to keep the essencial services running that you need in your phone, and save battery. If you need power, you just turn it on and it will use it all.

I tested it in battery saving mode and got 17k score. With performance mode i got 29k score.

Best smartphone for the price. Believe me.
c
between the wikowax and the motorola moto g (2014) witch one is better?
t1
This smartphone seems very interesting to me, though the internal memory seems low. Can someone assure me that app2sd is possible with this device?
X22
Good phone very light...new type of battery Li-on (Poly)and they are very light.
D
Anonymous, 19 Jul 2014Which country? Portugal, France, Germany, Switzerland and Italy
Total of 33 user reviews and opinions for Wiko Wax.