The website WillitBlend.com got really popular by… well, by blending stuff in a high-speed super blender. They've put all kinds of gadgets in that blender and none has managed to escape the relentless blades yet.
The story behind the Will-it-Blend campaign is in fact a clever marketing strategy for promoting and selling those super blenders by Blendtec. Nonetheless it's so fun watching all those things go down the blender really fast - some even go ballistic.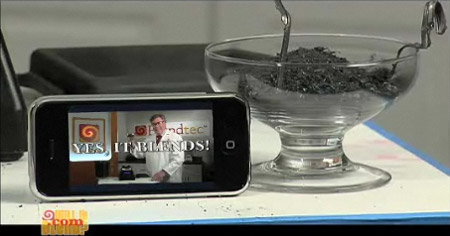 Yes, the first-gen iPhone definitely blends, let's check the iPhone 3G
We enjoyed watching the first-gen iPhone getting all beat up and dusted. So we eagerly expected what will happen with the speedier iPhone 3G - will it go down twice as fast? Well, we've got our answer now and take our word for it - you need to watch this video.
For more on blending high-tech stuff, hop on to WillItBlend.com
?
The video is not working anymore. But, there is a new iPhone 3GS now. It is twice as fast as the old iPhone 3G. Check out here for more details of the new iPhone 3GS Apple.
I
Why ain't the guy shows if his hand or "thing" blends??? All other mobile phone makers just jealous man... long live Apple....
S
People don't be crazy with these waisted mobiles with better fetears.your battery will be finishes in between 3 hours with this iphone 3g.I like samsung omnia should be better phone if it should be previewed with changing is't form and appearence as ...
ADVERTISEMENTS