Windows 10 Anniversary Update announced, will be out in the summer for free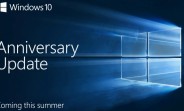 At its Build conference today Microsoft has officially announced the Windows 10 Anniversary Update. This will be the first major update for the company's latest operating system version, and so far it's been known only by its codename - Redstone.
The Windows 10 Anniversary Update will roll out sometime this summer, and it will be free for everyone running Windows 10.
It will bring with it support for Windows Hello biometric ID in more apps, including the Edge browser - so you'll be able to sign into websites with your fingerprint. The Linux command line shell will be in too, alongside a smarter Cortana (who you can tell to send files to colleagues, for example), and a unified Windows 10 and Xbox app store.
Perhaps the biggest new feature in the update is the addition of the Windows Ink system. This is all about taking stylus support up a notch. So you'll be able to do things like jot down something along the lines of "Call Joe at 9 pm" on sticky notes, and Cortana will automatically recognize that as a reminder. Windows Ink will work with both a pen and your finger, and you can even use both at the same time. Microsoft apps such as Office will obviously support Ink, as will Adobe's apps. And the platform is open for integration into other apps too.
D
Well, they release a new stylus function, when they didn't even fix the serious bugs that was there from the first 10 release like this: http://answers.microsoft.com/en-us/windows/forum­/windows_10-hardware/palm-rejection-not-complete­ly-work-on-win-...
B
I haven't try Windows 8.1 but experienced with Windows 8 and now Windows 10. Windows 10 more speed and stability while update compare Windows 8. And the new Start Menu was pretty cool~
@
Great Work Microsoft, Ruler support, Biometric support to Web browser , Cortana sets reminders if you write something on sticky notes. All great at #build2016 it is amazing