Windows 10 Creators Update will let you pause updates from being installed for up to 35 days
If you have Windows 10 on your computer, you're probably not loving what Microsoft has done with the way its OS handles updates. Namely, the fact that you can't choose when to have new updates installed - the process is as automatic as it gets. If you do wish you could control when updates are installed on your system, you'll be happy to know that things could be changing in the future.
In fact, the Windows 10 Creators Update that's coming out for free in March will let you "pause updates" for up to 35 days at a time. This has been revealed by people who are currently running a leaked pre-release build of the Creators Update, and have spotted a new entry in the Advanced Options menu for Windows Update Settings.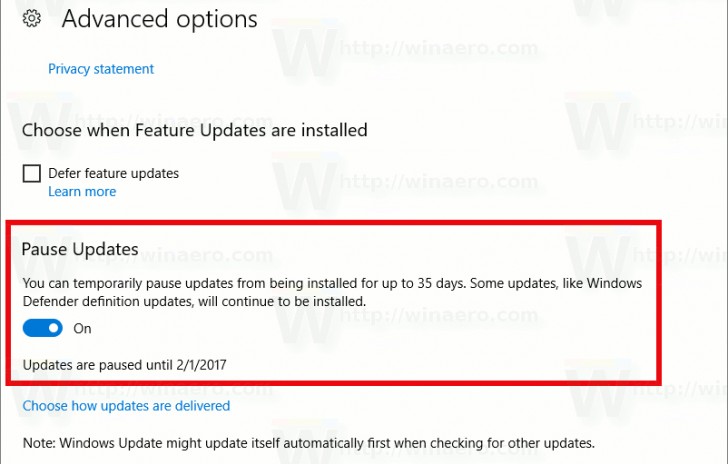 As you can see from the screenshot above, there's a new Pause Updates switch in there, which if you turn on will make Windows not install any more updates for the next 35 days. Windows Defender definition updates aren't covered, you will continue to get these. You can also see on what date the Pause setting expires and you'll be hit with a barrage of updates.
Before you get the bubbly ready, keep in mind that this setting is part of an unreleased build of the Windows 10 Creators Update. That means it may change before the final release of that new OS, or it could even be removed entirely. There is however a chance that this means Microsoft is finally willing to give in to people hating the auto-update mechanism in Windows 10, even if just a little bit. One more thing to note - the leaked build is an Enterprise SKU, so it's not clear whether this feature is also headed to the Windows 10 Home or Pro SKUs.
M
Not that Windows Photo Viewer App. The Microsoft Photos App that was there since Day 1 of Windows 8 and up until the Anniversary update when they replaced it with a downgrade. Here's a review of the old app. http://www.pcmag.com/review/344385/mic...
m
Totally agreed with you HappyBallz. I even revert back to W7.
m
That is what i did too. Annoyed with those updates. Updating during shutdown and another updating during boot up. Took a lot of time for that for me to start doing something on my machine. Really hate it. Why not perform the update in the background,...
ADVERTISEMENTS