User interface
The tile-based launcher of Windows 10 looks largely familiar, but the Settings menu and the Action Center have been reworked and now share their base design with the desktop Windows. The goal is, again, to make transitioning between the two easier as well as shorten the initial learning period if you have more than one Windows 10 device.
Here is a quick hands-on video to get you started.
The first thing you'll notice in Windows 10 for Phones is the new background - the wallpaper now spreads over the background space, while the tiles become transparent so you can enjoy the picture behind them. The Start background continues to be visible even when you go to All apps section on the right.
Windows 10 Technical Preview for Phones lacks the old Start background option, where the image you've selected was displayed on the tiles themselves, but Microsoft has promised to bring this back and we'll be able to choose between the two options. Of course, if can always opt for a no background option as well.
Show More Tiles settings is available and if turned on, it will allow you to stack up to six small tiles in a row instead of just four.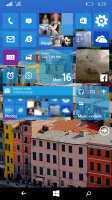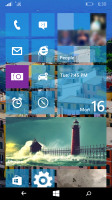 Show more tiles ON • show more tiles OFF
A new addition to Windows 10 is the option to use vertical rectangle tiles (4 x 2) and new supersized tiles (4x4) in the grid. Those are already available, but require apps to explicitly support them so they won't be there for most apps.
The Action Center got an update as well. It still has four quick toggles at top and notifications below, but you can now expand the quick toggles and view three rows of toggles. You can configure what to be visible and what expandable from Settings -> System -> Notifications. You can also opt for which apps to use notification banners and which - don't.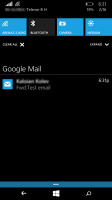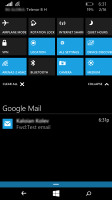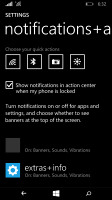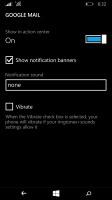 The new Action Center • settings
The Settings menu finally makes sense! We've been waiting for a more organized settings menu since the day Windows Phone 7 debuted and finally it is here. Now you have 11 main sections - System, Devices, Networks, Personalization, Accounts, Time and Language, Ease of Access, Privacy, Update & Recovery, and Extras. The new organization, color scheme and system icons are very similar to the new Settings menu in Windows 10 for Desktop.
Cortana is here as well and it's smarter than ever. Or at least it will be eventually - Microsoft promises deeper integration within Windows 10. For now, however, it works just the same, with only a few new commands supported and some new languages learned. It also supports a new big square tile occupying 4 x 4 spots.