Today Microsoft has commenced the rollout for the first big update ever to hit Windows 10. The latest version of the OS brings with it a few new features alongside the usual assortment of bug fixes and performance enhancements.
First off, you can use your Windows 7, Windows 8, or Windows 8.1 product key to activate Windows 10. Previously, you needed to install the older version first, then update to Windows 10 for free.
The Start Menu can be four tiles wide now, and the total number of tiles it can show grows to 2,048. And a new Suggested Apps feature pops up from time to time recommending stuff for you.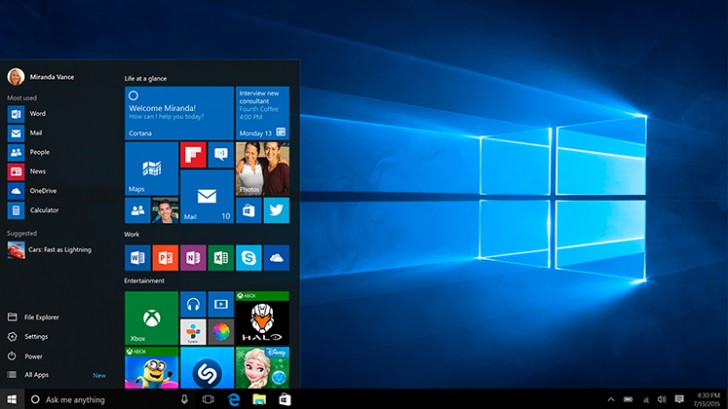 Moving on, colored title bars are now a thing for all your desktop windows if you want them to be. A "find my device" feature is built into the OS itself, negating the need for a third-party locator app.
Cortana can now understand handwritten notes, it tracks tickets for movies from your email, and coupons for the sites you visit using the Edge browser. It syncs messaging and call history with your Windows Phone and notifies you of missed calls on your PC. And when you're out of the office (or away from home), Cortana can even put your computer to sleep. Finally, the virtual assistant now works without needing a Microsoft account tied to the machine.
Microsoft Edge syncs Favorites and Reading list items across devices, while if you hover over one of your open tabs you'll get a preview of what's on that website.
With this release, Microsoft thinks Windows 10 is finally ready for enterprise PCs, now being able to "confidently recommend Windows 10 deployment to whole organizations". Windows 10 is also on its way to Xbox One today, and we'll see its mobile version on select phones soon.
E
Hint on how to force the update if you are too impatient to wait for the WU to offer it: 1) Go to http://www.microsoft.com/en-us/software-download­/windows10 2) Choose "Upgrade" - and follow the instructions Note that the update is more th...
E
" ** US only at availability " Note this footnote at the source link, on some of the features. Here the version still says Microsoft Windows [Version 10.0.10240] and not Windows 10 1511 Build 10586 - aka "Threshold 2" The latest sy...
e
So basically the biggest spyware just got more bigger...cool