Windows 10 has 500 million monthly active devices, Cortana boasts 140 million and lets developers in
Last September, Windows 10 boasted more than 400 million monthly active devices, which is nothing to scoff at. But today the company's CEO, Satya Nadella, has announced that the operating system has passed 500 million monthly active devices. Those are, as the name implies, devices on which Windows 10 was used at least once in the past month.
The growth in Windows 10 adoption has stalled after the free update period for the OS ended, and as a consequence Microsoft has revised its expectations for hitting the 1 billion number. While initially that was said to happen by next year, it now claims it will reach it sometime after 2018.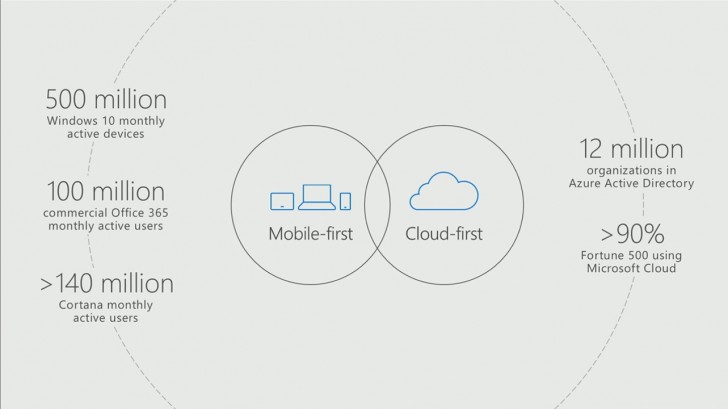 Cortana, the company's own entrant into the increasingly crowded virtual assitant space, now boasts more than 140 million monthly active users. And those are people that third-party developers can now target through the use of the newly released Cortana Skills Kit preview.
It's like a Software Development Kit (SDK), but for Cortana. So any developer can theoretically build a new "skill" for the assistant, and it will work across devices and operating systems that Cortana is available on - Windows 10, iOS, Android, and new standalone Cortana products such as smart speakers.
R
Yes I am cause I think you have no idea about this and who is using it just google it buddy and will tell you something with a bit more effort it Will kick its ass Check your phone if it is Andy so it is Linux dude
R
keep teasing me budding and I want you to give it a try for Ubuntu 16.10LTS and tell me how match and configured hardware is. By the way my laptop is Asus and am using it on my laptop with full functionality...
?
Linux has BY FAR the most driver support in the mainline kernel of any operating system, and any common distribution will have better out of the box support than Windows. Try installing a distribution made in the past decade. There is no driver ...