On August 2 Microsoft started rolling out the Windows 10 Anniversary Update for PCs. Before that happened, we heard that the Anniversary Update for Windows 10 phones might go out at the same time. It didn't. The mobile device update then seemed like it would start a week later, on August 9, but that didn't pan out either.
And here we are, one week after that, and this time the Anniversary Update for Windows 10 Mobile is in fact rolling out. The new software is going out starting today, and devices that currently run Windows 10 Mobile and were sold unlocked will get it first.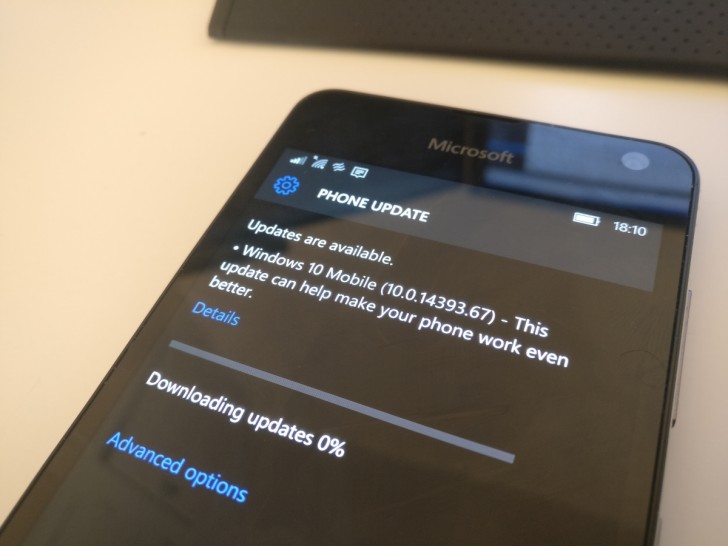 In its official post on the matter, Microsoft notes that "availability may vary by manufacturer, model, country or region, mobile operator or service provider, hardware limitations and other factors", so keep that in mind. Needless to say, this won't be hitting every single handset that's running Windows 10 today - but at least from this point on you know that it is coming.
The new build is 10.0.14393.67, as seen in the shot above. If you are impatient and want to manually check for it, go to Settings > Update & security > Phone update > Check for updates on your Windows phone. The new software version brings with it rich notifications, notification sync, and a Skype app built on the Universal Windows Platform.
D
The drawbacks of this last W10 mobile update, August 2016, on my Nokia 1520 are appalling ; I haven't completed the list, but for instance it has deleted my FM radio !! I trust Microsoft ; the rectification will come.
k
Dear gsmarena, Kindly post gsmarena review of windows 10 on nokia Lumia 1520.
D
Bugs finally rolled out