Windows 10 Mobile Anniversary Update rollout won't begin August 9, Microsoft confirms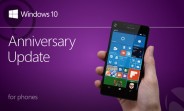 In the last few days, there have been at-least a couple of reports suggesting that the Windows 10 Mobile Anniversary Update will start rolling out on August 9. However, Microsoft - specifically, the head of the Windows Insider Program Dona Sarkar - has now confirmed that won't be the case.
@stachomike No, not today. You'll know when :)

— Dona Sarkar (@donasarkar) August 9, 2016
For those who missed, the reports in question had suggested an August 9 roll out for unlocked Lumias and other Win10 devices, and an August 16 roll out for carrier branded handsets. Microsoft, on its part, is yet to officially confirm an exact roll out date for the update.
?
To ur comment. I bought Microsoft Lumia 950XL thinking the same as u told (but i had my iPhone 5 which i bought 4 years back from now). Comparing it both together Windows 10 has improved profoundly compared to Windows 7 mobile which i had 5 years bac...
D
hey, i have 1067 (10.0.14393.67) on my phone. it's good, but there's a few bugs. and whenever i check for new system update, i got error code 0x8024402f what should i do? do i need to reset my phone or just waiting for final version? thanks
D
10.0.14393.50 was the official build. Which I got. Then 10.0.14393.51 was the first cumulative patch, which I got. Then 10.0.14393.67 is the second patch, which I have According to what Microsoft told me. The official build is already done and releas...