Windows 10 update notification now in a final full screen form before officially going away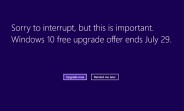 Ever since Windows 10 was made official and the year-long free upgrade program launched, the pesky update notification has been a constant source of annoyance for users, as well as the reason behind more than a few hilarious public accidents.
Now that the end of the promotion period is near - officially set for July 29, Microsoft warns that in a typical arcade game boss fashion, the notification will take one final form, before being obliterated forever.
According to a recent post on the US giant's website, some Windows 8.1 and Windows 7 SP1 users can expect to see a full screen prompt. It should look like the screenshot below and will give users a choice between "Upgrade now", "Remind me later", "Notify me three more times" and "Do not notify me again".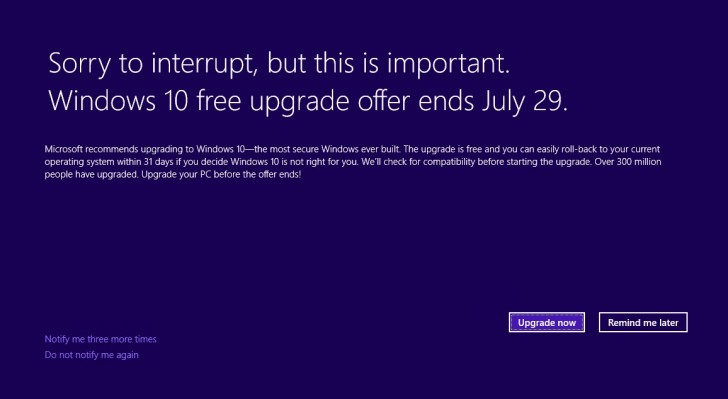 Judging from the tone and context of the support article, it really does sound like Microsoft is making one last preemptive apology for the whole notification saga. This is further backed up by the fact that the company provides a very thorough list of conditions, which all prevent the "final form" from happening. Among these is a mention of recent versions of the "Get Windows 10" app, suggesting that Microsoft did remove the final notification from newer iterations of the software, most-likely after the community backlash.
You have a recent version of the "Get Windows 10" app installed.
You have selected the Do not notify me again option.
Your computer is detected to be incompatible with Windows 10.
You have previously uninstalled Windows 10 after you upgrade.
Your Windows 10 installation failed and rolled back.
You have hidden the "Get Windows 10" app notifications.
You have disabled the Windows 10 upgrade or you have disabled the offer screen through registry key settings.
This should effectively leave a fairly small percentage of PC's actually eligible for the upgrade unaware, butwhen dealing with Microsoft's enormous user base, you never know where and how the screen will pop up. Que another batch of hilarious public terminals and information displays. Hopefully even another weather forecast interruption.
Joking aside, however, there are many reasons why you should consider upgrading a dated Windows 7 or Windows 8 installation to Windows 10. If nothing else, you should definitely think about it over the next few weeks and make a definitive decision one way or the other, as after July 30, Microsoft is planning to charge $119 for the same upgrade.
J
agreed. but my windows starter seems to heavy for my old pc though haha. but yes win 10 is not for those who only uses the internet and ms word. id rather go with win 7 for those purposes
J
I just wanna ask, can I still upgrade a PC using a usb flash drive with win10 on it that ive back up? for reformatting pc i use this usb drive. but i can i do it for a fresh install on a pc that has never been upgraded to win 10?