A new Windows 10-powered smartphone has received certification from the Bluetooth Special Interest Group (SIG). The listing reveals that it's a Vaio device manufactured by Taiwan-based company Quanta Computer.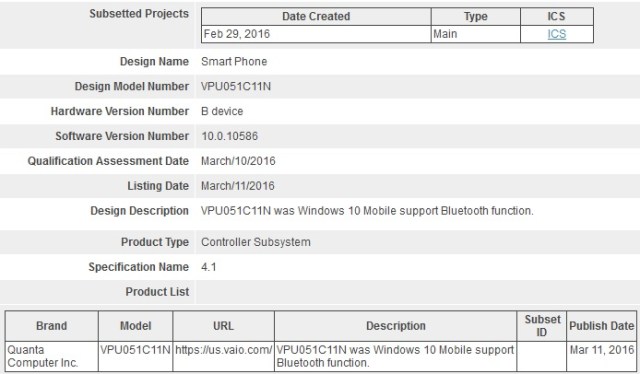 As you might already know, Vaio announced Windows 10-powered Phone Biz last month in Japan, where it is set to go on sale next month. However, it is less likely that the new phone is the Phone Biz given that both carry completely different model numbers - VPU051C11N and VPB0511S, respectively. And not to mention that the company has already confirmed that it currently has no plans to launch the Phone Biz in the US.
A Quanta MTP8952 phone powered by Snapdragon 615 and sporting a 4.7-inch 1080p display was spotted at GFXBench late last year. However, that's not enough to speculate the MTP8952 is the same device that has been certified by Bluetooth SIG.
?
Sony has already sold Vaio to the investment firm Japan Industrial Partners in February 2014 due to net loss of ¥110 billion ($1.1 billion).
?
Sony, what are you doing ? There is a better way to go bankruptcy .
D
$420 equals premium phone. Hopefully is has beaut build quality. Like the Nokias it will likely be up against. Success with them on this, good luck. (Oops ignore this post, that price is from an older unit methinks, an android mid tier pr...