Microsoft has just launched its Windows Embedded Handheld platform which, as its name reveals, was developed for the handheld enterprise devices out there. The first enterprise digital assistant to run the new platform will be the Motorola ES400 which was announced today as well.
The news on a platform like this might sound strange at first, however, keep in mind that only in 2009 some 2.3 million handheld enterprise devices were shipped and this number is expected to exceed 4.3 million devices by 2014.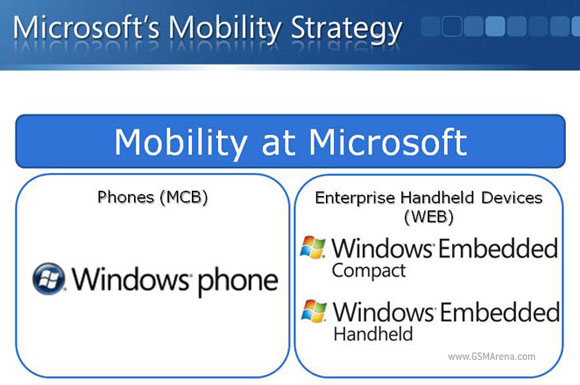 Microsoft's newborn is expected to boost productivity of enterprise customers by offering them management and security functionality as well as an extended application support life cycle. With the help of Windows Embedded Handheld powered devices users will always and everywhere be able to capture, access and act on information.
The first Windows Embedded Handheld release will show up sometime this year and will be based on Windows Mobile 6.5 with some management and security features on top of it. Since normally this kind of devices are made to last long Microsoft will also make sure to provide extended application support even after newer platforms are released in the future.
Speaking of newer platforms, the next level of Windows Embedded Handheld will be based on Windows 7 (Windows Embedded Compact 7) and should be launched in the second half of 2011. To learn more about the Windows Embedded Handheld platform, check out the video below.
As for the Motorola ES400, it is the first device running the Windows Embedded Handheld and was announced today, together with the platform itself.
Motorola ES400
The Motorola ES400 is a so called EDA (short for Enterprise Digital Assistant). It is actually the best way to understand what the Windows Embedded Handheld is all about. This device is made to survive through rain, high and low temperatures, numerous drops on a vinyl covered concrete.
And after all that it should still be able to keep you in touch with the colleagues and the company data base. What makes it even more special is the support for both CDMA and GSM networks which allows it to operate virtually anywhere around the globe.
Motorola's EDA comes with Windows Mobile 6.5.3 Professional, a 3" resistive touchscreen of VGA resolution, a 600MHz processor, 256MB of RAM and 1GB of ROM memory (a microSDHC card slot is also to see on the long specs sheet). There is also a biometric fingerprint reader.
The Motorola ES400 also features support for HSDPA, Wi-Fi (802.11 a/b/g) and Bluetooth and packs a built-in GPS receiver with A-GPS. Also on board there is a 3-megapixel autofocus snapper with LED flash which is capable of scanning bar codes.
The ES400 is powered by a standard 1540mAh Li-Ion battery and there is also an extended 3080mAh one which makes the devices a bit thicker and heavier but doubled battery life is totally worth it.
The three-year life cycle of Motorola ES400 guarantees you a better return on investment. The new EDA is expected to start selling later this year at Sprint and other Motorola partners but there is still no word on its price.
G
I am a long time user of cell phones and handheld devices. I hope I just got a bad unit because I found the ES400 to be a literal Dinosaur! The touch screen is near impossible to use quickly, taking forever to enter with either the keyboard or stylus...
?
motorola is realy strong brand i love it
?
peoples knows android os give life to moto with droid-milestone and so on. as moto make this nice and strong windows mobile and remaind me the android moto i1 water proof as well, we believe and wait for better spec with win 7.
ADVERTISEMENTS