Internet Explorer Mobile: Like the OS, like the browser
Now, this is the really interesting part - the new version of the Internet Explorer Mobile web browser has received a nicer touch-optimized interface and way cooler skin. It now sports kinetic scrolling and Flash support, and should give you the browsing experience that its predecessor failed to.
There are five available settings for text size and there is a mobile view mode. Still, on a high-res screen we are far more comfortable using the desktop mode, as web pages look much more natural.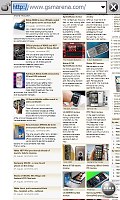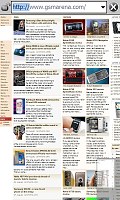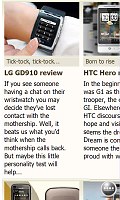 Browsing GSMArena.com wiht Internet Explorer Mobile
Zooming though is best done with double tapping on the IE. It worked like a charm on our retail unit of Samsung I8000 Omnia II. Double taps are certainly more comfortable than the alternative zoom bar. To get to it you either use the dedicated button at the bottom of the screen or hold your finger on the screen to launch a context menu with a zooming option. And to add to the discomfort, when you zoom you loose the Fit-to-screen capability, so prepare for a lot of side scrolling to read those texts.
Another obvious flaw of the IE browser is it doesn't automatically rotate the pages with the built-in accelerometer. One would think this isn't the hardest thing to do but the developers obviously saved themselves the effort here. There isn't a setting for manually switching to landscape mode either so like it or not - portrait is all you get.
We guess that and the handicapped zooming is exactly what dooms the Internet Explorer yet again. Microsoft have actually tried to fix it, admitting there was plenty to fix, but the effort was half-hearted.
We would still take the free to download and often preinstalled Opera Mobile over the IE mobile any day. So they either need to bring a totally redone browser on the Windows Mobile 7 or they better not bother supplying one of their own at all.
Marketplace: a breath of fresh air
By now you've probably heard all there is to hear about the Windows Marketplace but to us it certainly is the most important change introduced by WinMo 6.5. It is in fact an application distribution solution that should help third-party applications find their way from the developers to the users handsets by basically cutting off the middle man.
Apple did change the rules of the game with their App store. All manufacturers realized the importance of providing consumers with a quick and easy way to get the applications they need straight from the mobile phone. That's especially true for Windows Mobile given the massive amount of third-party software that has been already developed for their platform. Downloading software off the internet is fine, but getting it straight on your phone in a few easy steps is way better.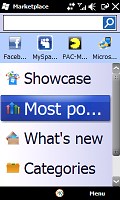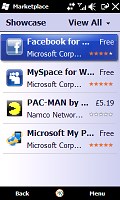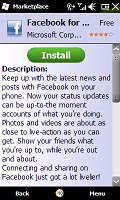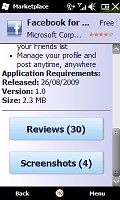 The marketplace isn't exactly brimming with content just yet
The interface of the new Marketplace application is pretty straightforward - it gives you shortcuts to the most popular applications, the most recent ones and category view. There is of course a search box too to make things easier as the number of applications grows.
As of now, there are only 53 apps available with not more than 7 of them free of charge. The prices of the others range from a few pennies to over 50 US dollars. We guess no one is particularly happy at this point with the proportion of free to paid apps on the Windows Marketplace. But we should probably give it time for more applications to get in (and they will, sooner rather than later).
The Marketplace is nicely setup as well, offering user reviews, screenshots and, as usual, individual ratings.
Final words
You may've noticed that this review only focused on very few parts of the WinMo OS. This is simply because all the rest is a perfect copy of what we're used to seeing in Windows Mobile 6.1, which in turn wasn't that much different from Windows Mobile 6.0. And we are not even going to mention that 5.0 wasn't that much worse either.
So, the next iteration of the MS mobile OS took some good four years to cook and what you get is basically the same OS. Even if it was perfect right from the very start, it still would have been dated by now. And you have our word - it wasn't that perfect at all.
It may not be Microsoft's fault but the buildup was bigger than the actual thing they delivered. The 6.5 is honestly a petty excuse of a new OS but maybe we were not supposed to expect a new OS in the first place. Microsoft may have a point in the end in their claims that 6.5 was not really part of their plan - just making up for Windows Mobile 7 taking to long. In a way, the WinMo 6.5 ending up a flop could be a good thing for users. That way Microsoft have no other options but get WinMo 7 right.
So, WinMo 6.5 does almost nothing more than what phone manufacturers have been doing for quite some time now with their customized plug-ins. But there are still some things to probably save the day for Microsoft. The first one is actually in no small part credited to the company itself and its longstanding traditions. It is the vast amount of software available for the WinMo OS, which is still unmatched by any other platform (and mind you, we are speaking quality - not mere quantity - here).
The other important circumstance in favor of Windows Mobile 6.5 is the hardware improvements that we've witnessed recently. The platform has long been criticized for its poor laggy performance but the 800MHz and 1GHz CPUs that makers are keen to use lately are handling it pretty nicely.
Responsiveness and fluidity used to be a huge bonus for competing platforms but now that WinMo performs so well, this argument is getting thinner and thinner and it's all about user-friendliness and usability.
Finally, the amount of the devices running WinMo available on the market is increasing as we speak and they are getting nicer and sharper. It is no longer unthinkable for such handsets to have a nice camera or cool design or even come with multimedia on their minds.
Now that others seem to be doing their job and buying them some time, let's hope Microsoft developers will try their best to be on par and produce an OS that's as good as some of those recent handsets. Windows Mobile 7 won't be around for at least another year and we don't think users will be able to swallow another failure. And with the competition certainly not standing still, it will be without a doubt a make-or-break release.