Those WinMo fans are by far the luckiest fellas recently. After the four announcements by Samsung yesterday, it now came time for LG to stand in the spotlight. The nicely-spec'd LG GM730 is available in the Australian and Asian market from today with the rest of the world expected to follow soon.
LG GM730 is the first fruit of the recently announced partnership between LG and Microsoft and combines the power of Windows Mobile 6.1 OS with the user-friendliness and fluidity of the S-class UI. The fully touch-operated handset comes with a 3" WQVGA screen, A-GPS, Wi-Fi and a 5 megapixel camera. USB and Bluetooth connectivity is also on board and the device still manages to remain pretty slim at 11.9mm.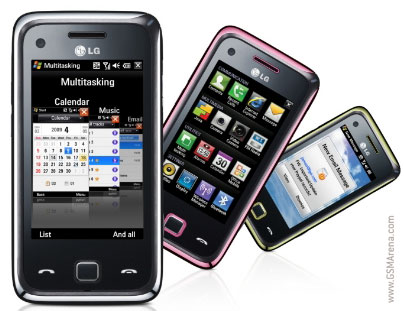 LG have made a slight modification to the design of the GM730, compared to what they showcased in February in Barcelona. The round D-pad is replaced by a more traditional rectangular one and the icon on its confirmation center seems to have been removed. That way they have achieved some remarkable resemblance to the original Samsung i900 Omnia both specs-wise and design-wise.
The first countries to receive the LG GM730 will be Singapore, Taiwan and Australia. The handset will be available in three color versions - Black, Lime and Pink, but there is no MSRP announced. As current preorder prices suggest, early adopters will have to part with about 400 euro (560 US dollars) to be among the first to get a shiny new GM730.
R
The LG GM730 comes with 289MB internal memory and offers a micro SD slot for external 32GB storage. It comes with an in-built MP3 Player, FM Radio, and voice-recording features. The phone weighs about 107grams and uses 1000mAh battery. It's 3G compat...
s
is the spec in gsm correct? it is strange to have lower spec for latest phone (resistive touch screen 65k color !!!!!)what k i do with 65k color...
ADVERTISEMENTS