As it seems Palm have a really nice looking Windows Mobile PocketPC in store for all GSM users.
The new Palm Treo Pro (previously rumored as Treo 850) appeared online in several screenshots grabbed from some sort of presentation slides.
Unfortunately, the slides don't reveal much about the technical specs of the Palm Treo Pro, however it's clear that the device will support GSM, there will be fast HSDPA data transfers and the whole thing is running on Windows Mobile Pro instead on Palm OS.
Wi-Fi is on board, as well as a microSD memory card slot. An infrared port is also present - a technology we thought to be long gone before Nokia released their latest Nokia E71 and Nokia E66. Next Bluetooth, 3.5mm standard audio jack and a microUSB port complete the tally. There's also a camera lens on the back - but we don't know any details.
One thing's for sure, the Palm Treo Pro seems like quite a looker (although not that slim) and we are already anxious to see it live (or at least shot live).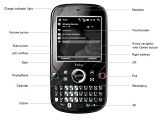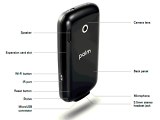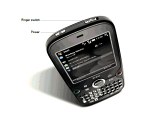 The Palm Treo Pro looks NOT sexy
Update: Live photos leaked later today and we were finally able to see the Palm Treo Pro live. The device doesn't look that good anymore so we guess we'll just have to take our words back.
Additionally, some of the other specs of this thing surfaced along with the live photos, and here are the new details:
400Mhz CPU
256MB ROM, 128MB RAM!
320 x 320 pixel screen
Built-in GPS
Quad-band GSM, tri-band HSDPA
2 Megapixel camera
1500mAh battery
Source: WMExperts
r
this palm looks so good! (L) great!
A
My first Treo was the Treo 600. I also had the Treo 650, Treo 680 and I also had the Treo 750. They're excellent smartphones. But they evolve very slowly. Palm need to make their phones slim like the iphone, add a gps like the Nokia N series, a bette...
E
Please ...pls ... get a life Treo. This treo stuff is a disaster!! Very very flimsy!! Fragile and screen scratched easily. I'm suprised why Treo still exist in the market !!! No backup service at all in any country! U dun have to believe me, just ask...
ADVERTISEMENTS