Introduction
A modern smartphone OS needs to be balanced - drawing on excellent cloud services and standing on the cutting edge of software. The Windows Phone 7 OS is nothing like Windows Mobile. It's got a trendy, almost magazine-like new look, and it is incredibly simple to use despite its different approach to just about everything.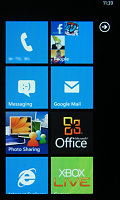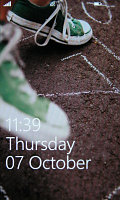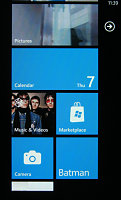 Windows Phone 7 has a brand new interface
Microsoft received a loud collective boo when it revealed that Windows Phone 7 will not support multitasking. But the company is trying to break the mold here. Instead of making a playground for apps, it made WP7 the "killer app". Anything extra that you install just integrates in and extends the relevant features.
They must've sat down to think. A complete makeover or start from scratch. In an odd way, it looks like they never actually made up their mind. That doesn't matter though. The important thing is Windows Phone 7 is breaking loose from its "Windows Mobile" heritage and changes everything about itself – from the homescreen to the very nature of apps.
Key features:
Premium mobile OS (high minimum hardware requirements)
Clean, uncluttered interface with distinctive design language
Easy and thumbable user interface
Smooth operation with cool animations and transition effects
A fresh start with no legacy support needed
Backed up and developed by one of the largest software companies in the world
Excellent MS Office mobile implementation
Top-notch social integration
Excellent cloud services integration (SkyDrive, Windows Live, Xbox Live)
Wireless syncing of multimedia content
Internal memory expandable via microSD card slot (where available)
Main disadvantages:
No system-wide file manager
No videocalling
Limited third-party apps availability
No Bluetooth file transfers
No USB mass storage mode
No multitasking
No copy/paste
Too dependent on Zune software for computer file management and syncing
No music player equalisers
No Flash or Silverlight support in the web browser
No sign of free Bing maps Navigation so far
No DivX/XviD video support
No internet tethering support
New ringtones available only through the Marketplace
Swapping memory card requires hard reset; cards not readable by computer
Microsoft is not fossilized in their own mythology. They are finally looking competitive in the apps and services part of smartphoning and Windows Phone 7 is their ticket out of the mold.
Bing has evolved and is perhaps drawing people away from Google Search. Bing Maps even beats Google Maps on some counts (Bird's eye view is so much better than the plain top down view). The Windows Live Messenger got social with Facebook integration. Even the new Internet Explorer 9 beta is impressive – you know, for an IE iteration, at least.
We know what you're thinking: we came here for the Windows Phone 7 review so where is it and why should we care about Microsoft's new services? But you should. Because Microsoft has made their new Windows Phone 7 the perfect mobile platform for accessing all of their online services.
Bing Search and Maps are a part of the OS, rather than apps, so are Xbox Live and the Zune Marketplace. And the new Internet Explorer mobile is starting to make up for years of embarrassment.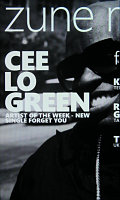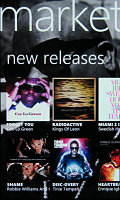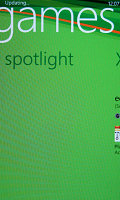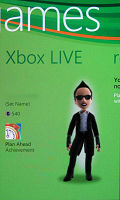 The Zune Marketplace • Games with Xbox Live integration
If you've got a traditional app-centric approach, you need to figure out what app does what. The downfall is that related content gets handled by vastly different apps, which complicates things. Enter Microsoft's solution to the issue.
The center of the new mobile experience are the so-called Hubs – they herd together related stuff from the Web, from apps and from services.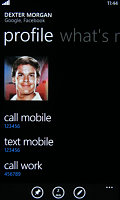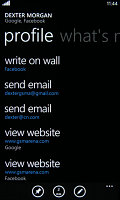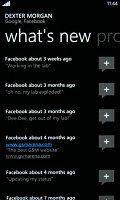 The People hub knows what's new with Dexter
In Windows Phone 7, the People hub puts together the usual phone contact info with the social networking stuff. In short, everything about someone you know can be found here. Sure, Sense UI and MOTOBLUR for example are doing the same magix on Android OS. But Windows Phone 7 applies this whole concept to all the other features, not just the phonebook. And it's the stock interface, not some third-party software enhancement.
The well-though OS however is not without its downsides. You can see we've got a really long list of disadvantages up there, but Apple iOS and Google Android had even longer ones at launch - not to mention the superior hardware that WP7 debuts on. It's also good to know that Microsoft engineers are already working hard on fixing those up in further updates to the OS. For instance, they promise copy/paste functionality in the first months of 2011. We hope they've got many more of those in the pipeline. So hold your horses with the bashing and hop on on the guided tour to Microsoft's latest mobile OS, because it's nothing like you've seen before and it deserves the benefit of a doubt at this early stage.
D
sry but memory card is depend on the os . And it doesnt suport it at all .
N
WP 7.5 is too bad..... It have too many problems. I resetted my phone more than 2 times with in a month of purchase coz of software problems... No soft reset is there for solving small problems...
s
The windows mobile operating system is a mobile operating system that was designed by Microsoft for use in mobile devices, particularly smart phones.Nevertheless it is still a great mobile OS which is enjoyed by many persons and advancements in the t...