Games you can play with friends
Xbox Live is at the heart of the Games hub. It carries over many features from the Xbox – from your avatar to your scores and achievements. The Spotlight feature is available too (it shows info on new stuff) and also Requests – which shows you game invites from your friends.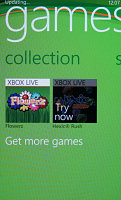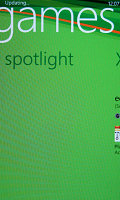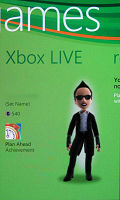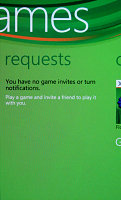 Games hub and Xbox Live integraion
Anyway, the games themselves are housed in the Collection section. Nothing much to see here, the installed games are arranged in a square grid and there's a Get more games shortcut, which launches the Marketplace.
Not all games support Xbox Live – the ones that do are in the corresponding section in the Marketplace. We didn't have many games to test, but the beefy hardware requirements ensure that Windows Phone 7 handsets won't have any problems with graphically rich titles.
Odds and ends
Bing search is integrated into Windows Phone 7, just like Google Search is part of Android. It offers suggestions as you type too, but it has one nifty little feature – the background picture.
Like the Bing website, there are new photos every day to serve as background, but on WP7 these have an extra feature – three squares on the photo, which give you three interesting facts about what's on the picture. The copyright sign in the bottom right also reveals the location of the photo (e.g. "Waterfall on the Arroyo del Salto River").
It's not really useful per se, but it's a nice "Did you know...?" type of feature for the curious-minded.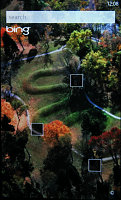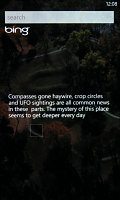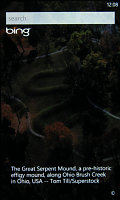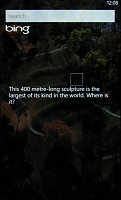 Bing Search offers beautiful backgrounds and intriguing trivia
There are voice commands too – you press and hold the Windows key and say your command. You can do things like "Call Sarah at work", "Open calendar" and even "What can I say?" if you're not sure what commands you can do.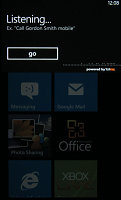 Windows Phone 7 supports voice commands
SkyDrive is Microsoft's cloud storage service and they offer 25GB of free storage (individual files must be 50MB max). You can integrate it with Windows Explorer and it has some integration with Windows Phone 7.
Right now, you can upload photos including auto uploading. A nice option to have is whether or not to keep the geotagged data when uploading a photo online – this works for SkyDrive and other services.
You can't really do much else with SkyDrive right now, but we expect to see proper (read: more intriguing) integration once Windows Phone 7 mobiles start hitting the shelves.
Another handy site that's not ready for prime time yet is windowsphone.live.com. This is the site that will offer free cloud syncing, "Find my phone" (it starts the ringer, so you can find the phone) and Remote wipe too. Some manufacturers will offer a similar service (e.g. HTC) but it will be limited to select devices, so getting it built right in all WP7 phones is a nice perk.
We couldn't find a way to easily put files from the outside world into the Windows phone - we had no luck in connecting the phone in mass storage mode. Once the Windows Phone 7 OS is out and about however, you should be able to connect the phone to a PC running the latest (yet unreleased) version of the Zune software.
The WindowsPhone.Live.com cloud has a silver lining
Microsoft has added extensive support for "in the cloud" features in Windows Phone 7. The WindowsPhone.Live.com site is where you can access those features from your browser – everything from remote wipe to browsing photos.
Open the site in your browser and sign in with the Live ID that you use on your WP7 phone.
Once that's done you have access to the Find My Phone features. You can make the phone ring or see its last location on a map.
If it turns out that your phone is lost, you can lock it and leave a "please return" note on the screen.
If you fear it's been stolen, you can remote wipe it too (which erases all data from the phone).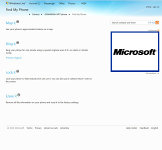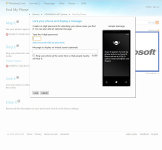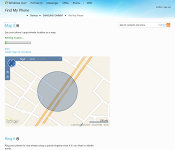 Find My Phone features • locking the phone • Map it
The Windows Phone Live also lets you browse and edit contacts, calendar events and OneNotes too (those are edited with Office Live).
You can also browse photos you've uploaded to SkyDrive. We already mentioned that the camera of every WP7 phone can be set to automatically upload all pics you snap there.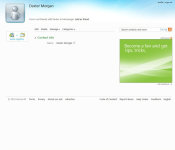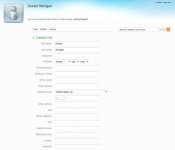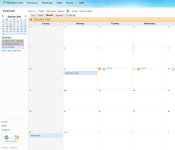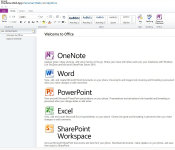 Editing Dexter Morgan's contact info • Checking the calendar • Editing a OneNote
Speaking of SkyDrive, using Windows Live Mesh you can sync your computer with your SkyDrive account too.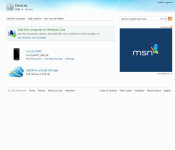 You can sync both your phone and your computer with SkyDrive