Messaging hub
Messaging was heavily retooled for version 7.5.
Threads are the building blocks of all non-email messaging. Although a sort of conversation view, threads mash together SMS, Facebook and Windows Live messages.
That's the thing about Windows Phone: the Messaging hub removes the old division between texts, IMs, social messages. The other hubs do the same for the other functionality, making the whole thing simple yet powerful.
Anyway, Messaging is separated into two tabs - threads and online. Online shows you who's online with the people you've talked to most recently on top. This makes finding someone to talk to very easy.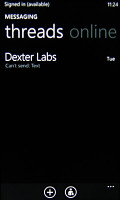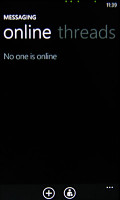 Viewing all threads and who's online • A single threads combines messages from SMS, Facebook, Messenger
Threads is where this hub's impressive features kick in. A new thread is created for each person you start a chat with. Messages are displayed as speech balloons and a label on the left shows the type of message - text, Facebook or Live Messenger. Labels are placed only when the conversation moves to a different platform so it's not cluttered.
You can choose which platform to use to send a reply and the text box will remind you what you're currently using with a message like "chat on Facebook". Individual messages can be copied (the whole message is copied to be pasted later, you can't copy only a part of the message), they can be deleted or forwarded. Whole threads can be deleted too.
You can't attach anything to Facebook messages, you'll need to use MMS for that.
The visual voicemail functionality is also part of the new OS (that is dependant on the carrier and your plan). It works as you would expect, by letting you read your voicemail messages instead of listening to them.
There are extensive methods to chat on social networks but we'll get to that in another chapter.
Here's a quick demo of the messaging and SNS prowess of the People and Messaging hubs:
Email
Conversation view was expected - it lists emails between you and a contact chronologically, grouping them by subject. It's the display style that Gmail popularized and is the best way to keep track of a conversation over email.
Each email conversation is listed with a subject and number of messages, plus how many of those are new. A tap on a conversation expands it to show the messages plus a line from each message.
You can tap on an individual message to read it, as well as skip messages back and forward to navigate the conversation. We expected to be able to swipe between the messages, but that wasn't the case.
Another highly requested feature was a unified inbox for email - and Windows Phone 7.5 delivers. You can now link multiple inboxes (and unlink them individually later), so that you have a single place to check for new messages.
Linking several inboxes will also automatically combine their live tiles. You can browse individual folders for each account, which lets you view messages from only one email account even if it's linked.
Calendar and Office updates
The business side of Windows Phone has its own list of cool updates in version 7.5.
The Calendar can view sub-calendars for each account you have and you can give each a different color to make it easier to tell apart. You can also disable sub-calendars if they're getting in the way.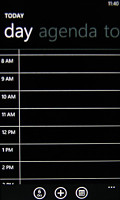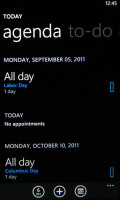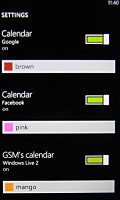 Calendar supports multiple online calendars and sub-calendars
To-dos can be created too. Those can only be synced with Live accounts, and not a Gmail account for example. Each to-do can have a priority reminder, due date and notes. Later, to-do's can be sorted by priority.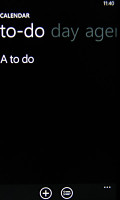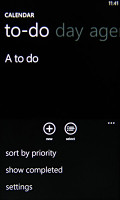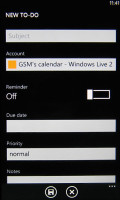 To-dos are part of the calendar too
As for the Office hub, SkyDrive integration is one thing that was improved. Now, docs are automatically synced between the phone and your computer through SkyDrive. In case you missed it, Microsoft are offering free 25GB of storage with each SkyDrive account (but individual files are limited to 100MB).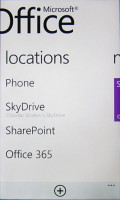 Office Hub supports multiple online locations
There's more - the Locations tab replaces the old SharePoint tab. This lets you browse Office docs stored on the phone, in SkyDrive, through SharePoint or in Office 365 (a paid service that includes Office web apps).
The Excel section of the Office hub got better too - it grew the all-time favorite Auto-sum function and you can now tap and drag to select multiple cells.
OneNote now has a To-Do feature that turns the selected line into a to-do item that can be checked off.