Changes to multimedia handling
The Pictures hub has been polished up a bit in Windows Phone Mango. There's a new People tab, which lets you browse photo albums by individual contacts or groups.
Photos can be shared via MMS, email or on a social network. You can pick one network to be available for quick sharing, which requires one tap less.
You can set a single photo as a background for the hub (it used to be the last photo viewed) or you can set it to shuffle different photos.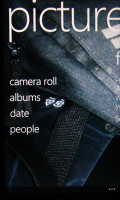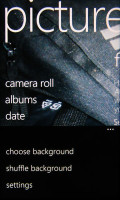 Picking a background for the Pictures hub
And of course, the point of hubs is that they are the go-to place to do things, instead of apps. New functionality allows apps to integrate into the Pictures hub, so for example, a photo effects app can make its options available right in the hub. Devs need to enable that into apps however.
Windows Phone 7 used to be quite restricted when it came to sharing - it's still not perfect (it still downsizes photos before emailing them, for one) but you can now share videos too, either via email or on Facebook.
While uploading photos to Facebook or Windows Live, the OS will detect any untagged faces and allow you to tag them before proceeding with the upload.
One bit of nuisance in the original version of the OS was its insistence to forget any custom camera settings - e.g. the video call camera would always launch in VGA resolution selected. Now you have a dedicated save settings button. You can go back to the defaults at any time if you're not happy with the changes.
With Windows Phone 7.5, the Music+Videos hub also saw its functionality extended. Creating playlists on the phone is one of the new features (add songs to Now playing and save the list as a new playlist).
Smart DJ (part of the desktop Zune software) can create playlists automatically, again right on the phone. And another thing - you can subscribe to podcasts (both audio and video). You could do that with the desktop Zune, but this way you avoid the extra step of syncing with your computer.
Bing is better at finding things
When you search on Bing, one of the things that might be offered as a relevant result is an app from the Marketplace. For example, searching for "travel" will offer a travel tool app. This feature is called App connect.
Bing also grew two new search modes - song recognition and barcode scanner. Those are features popular with apps, but with WP7.5 you get those natively as part of the OS.
The camera scanner can also snap a photo of text, perform OCR and translate it into another language.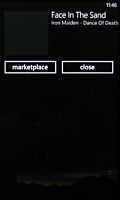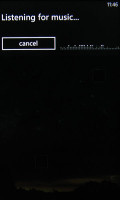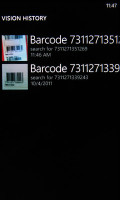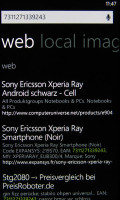 Track recognition • Barcode scanner
Brand new web browser
The Internet Explorer on Widows Phone was updated to the latest version for the 7.5 update and it improves the user interface.
The URL bar is always visible (but the status bar at the top of the screen is auto-hides, so you don't actually lose any screen real estate) and next to it is the refresh button. You can, of course, bring up the extended settings, which offer a great deal of options.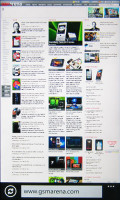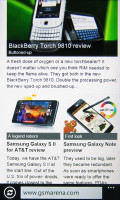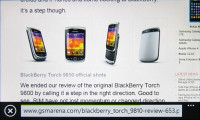 The new Internet Explorer interface
The URL bar also serves as a search bar, which is a handy shortcut for looking things up if you're not sure which site exactly will do the job.
The browser makes the controls in web pages look just like their equivalents in native apps. So, a web app can look just like a native app with practically no extra effort from the designer.
The six tab ceiling hasn't been lifted - it's not too bad, but competing OSes don't have such limitations. We were also hoping to see text reflow, but no luck on that either.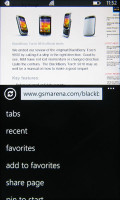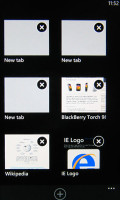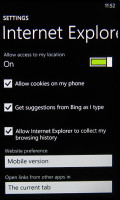 More options • 6 tabs max • Settings
What has changed is performance - the new browser relies on hardware graphics acceleration to provide smoother graphics (and video) and animation and the JavaScript engine has been retooled as well.
Microsoft are so confident that they've set up a page specifically for testing the performance of your phone - both JavaScript and graphics. You can find the page here.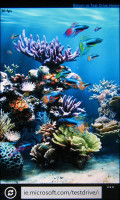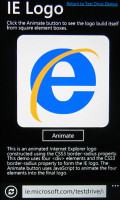 Internet Explorer does a Test Drive
Don't be afraid to pit the phone against even a desktop browser - the tests are pretty demanding and if you're not running a recent version of the major desktop browsers, your computer will surely break a sweat.
And here's a quick video tour of the new Internet Explorer Mobile: