Windows Phone 7 hardware requirements confirmed, two WP7 phones and an HTC HD3 rumor

There were speculations about the hardware requirements of Windows Phone 7, which phones will get the upgrade and now at the MIX10 Microsoft finally gave answers to those nagging questions.
Windows Phone 7 Series is a touch-operated OS and Microsoft will be very strict about the screen, though not as strict as we thought initially. At launch, the only available resolution will be WVGA (480 x 800) but as it turns out later HVGA (320 x 480) devices will also be available.
The screens used should all be capacitive and should be capable of sensing at least 4 contact points.
The hardware keyboard is optional.
The requirements for the computational muscle are pretty strict too - either a Cortex CPU or "Scorpion", which is actually the application CPU inside the well-known Snapdragon processors. The amount of RAM will be at least 256MB and there should be at least 8GB of flash storage.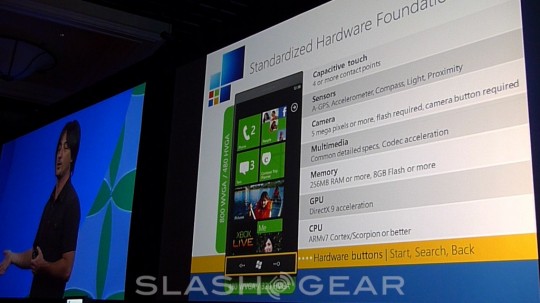 There will be mandatory GPU acceleration with DirectX 9 support and video acceleration too - Windows Phone 7 will have native support for DivX versions 4, 5 and 6. The H.264 codec will of course also be supported, up to High Profile (the one used in Blu-ray and DVB digital TV). Supported video resolution is still unclear though.
The Windows Phone 7 devices should also have at least a 5 megapixel camera with LED flash and a hardware shutter key. Most of the extra features are mandatory too - A-GPS, compass, accelerometer, ambient light and proximity sensor. The other three required hardware keys are Start, Search and Back.
Enough with the requirements, lets see the Windows Phone 7 devices, shall we? First off, it's now officially confirmed that the HTC HD2 won't be getting the WP7 update, sorry guys. We're not quite sure what exactly doesn't meet the specifications (it could be the built-in memory, the HD2 has only 512MB ROM, so maybe microSD cards do not count).
From the ones that will run Windows Phone 7, we've seen two so far: an LG side-slider with QWERTY - the LG Panther, and a new Samsung phone - the Samsung Slate. By new, we mean "it looks exactly like the Samsung i8910 Omnia HD".
Check them out here on video:
We covered the software side of Windows Phone 7 yesterday, you can check that article for more info.
But to review today's and yesterday's yays and nays: each and every Windows Phone 7 device will have killer specs, native DivX support, Xbox integration for the games. For the nays, no multitasking, no HTC HD2 update, can't get apps from anywhere else but the Marketplace.
For the daydreamers, here's an HTC HD3 rumor that we've just overheard. Warning, impossible specs ahead: a 4.5" touchscreen (1280 x 800 pixels), 115 x 65 x 10 mm (yeah, right), 1.5GHz Snapdragon with 1080p video decoding, 720p video capture via an 8MP camera. Oh, did we mention the 4G connectivity and the 1800mAh battery? Good luck fitting all that inside such a slim body.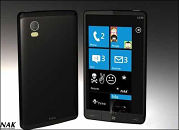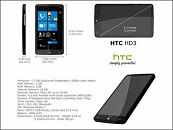 The HTC HD3 rumors are not for the faint of heart
But if this turns out to be true (it can't, can it?), we'll seriously consider selling our netbooks.
?
I'm prou I own One,vry fantastic!!
a
hullo, was charging my htc model T8788, when it suddenly told me my storage card in not working, i have tried to follow the instructions it's providing but they dont seem to be working please advice on rujumba.a@gmail.com. thank you & best regard...
S
@ Your question whether or not you will be able to upgrade your Omnia i8910 HD from Symbian to WinMo7: I don't think so, unless some idiot decides to hack the phone and create a WinMo7 version to put on it, since Microsoft won't make a version availa...
ADVERTISEMENTS