People Hub
The People Hub remains untouched. The first tab shows you a list of all your contacts (phone contacts, social network friends, email pen friends - everything), with a search shortcut and an add contact button.
Contacts are ordered alphabetically, indexed with colored letter tiles. You can tap any one of those letter boxes to display an alphabet grid highlighting the letters actually in use. You can tap on a letter to scroll to that part of the list.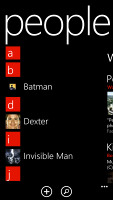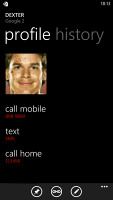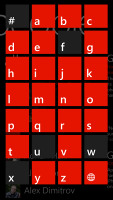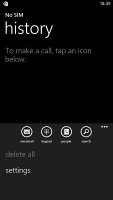 Contacts • Contact search • The History tab
Contacts can be sorted by either first name or last, and they can be displayed as "First Last" or "Last, First" (the two settings are separate), you can also filter contacts by service (so you can hide Twitter contacts, for example).
Swiping to the side brings you to the What's new tab that shows new events from all contacts in social networks. Another swipe shows the recent contacts. Instead of favorites, you can pin a contact to the homescreen.
The next tab is Rooms and Groups. Groups is a handy way to organize your contacts, with "text everyone" and "email everyone" features. All the status updates from the grouped contacts are pulled in from their various social networks, and you get access to their online photo albums too. Groups can also be pinned to the homescreen for easier access.
Rooms is just chat rooms similar to Skype group chats, but with contacts from your phonebook and social accounts. Unlike the Skype chats though, the rooms also offer calendar entries, notes and photos - same for all room members. Everyone can add events or docs and they'll become available to the other members. The best part is this won't mix up with your personal calendar.
You can also invite people from other platforms. They won't have the full Rooms functionality, but the most important one - they'll be able to chat and sync calendar events.
You can pin rooms to Start as well.
The Me card is your own profile. From here you can post status updates, set chat status, check into locations (there's more location goodness coming on later). You can also change your profile picture (only for Facebook and Live though, still not Twitter).
Another tab in the Me card lets you view notifications (e.g. Twitter mentions) and, finally, What's new lets you view your own status updates.
Much of the functionality available when viewing the entire list is there when viewing a single contact too. Below the contact's photo and their latest SNS update, there are actions - "call mobile", "text mobile", "write on wall", "view website" and so on. Below each action, in smaller type and grey or blue letters, are the target for the action (e.g. phone number, email, site URL) and where that info came from (Google, Facebook, etc.).
The soft keys let you pin a contact, link two (or more) contacts from the various services and edit. Swiping to the side brings out the What's new tab, which shows the latest updates and events just from that contact. Pictures is where the contact's Facebook albums are.
The History tab displays the complete history of exchange with a contact in one place, listed chronologically. Everything but status updates is shown here - calls, texts (actually threads from the Messaging hub) and emails.
When editing a contact, you can add multiple phone numbers and email addresses of different types (home, work, etc), a custom ringtone, a note or a variety of different fields (like birthday, website, office location and so on).