Windows Phone 8.1 boosts looks, brings Action Center
With Windows Phone 8.1 Microsoft has brought a rich feature pack to enhance the user experience. There are many new things that need testing, so let's get started.
Windows Phone 8.1 update is certainly one of the largest updates to a mobile operating system we've seen recently. It retains much of the flow of its predecessor, so existing users won't feel lost even for a second, but it adds much on top in an attempt to change the attitude of those sitting on the sidelines.
One of the most major novelties brought Windows Phone 8.1 is a unified notification center. Microsoft calls this Action Center and it's opened by pulling from the top of the screen. There are quick toggles on top with all your notifications popping up underneath. You can swipe individual notifications off the screen or you can click the dedicated clean all key to remove them all at once.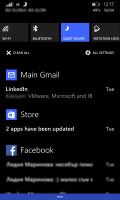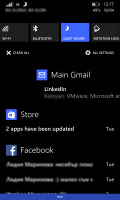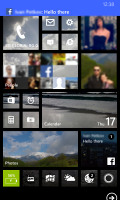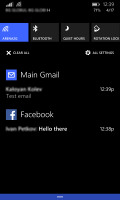 The Action Center • notifications
The four or five toggles (depending on the handset) are fully customizable, though there aren't as many shortcuts you can assign as on Android. The available options include airplane mode, Bluetooth, brightness, camera, internet sharing, location, project my screen, quiet hours, rotation lock, VPN, Wi-Fi. A double tap on the Wi-Fi button will get you to the Wi-Fi settings menu, while a double-tap on the Bluetooth - won't. That's rather confusing in its inconsistency and we hope Microsoft sorts this out before the update is released to the masses.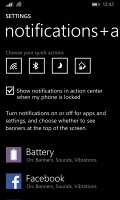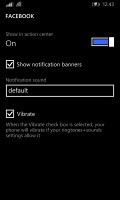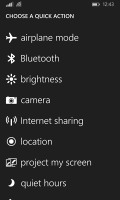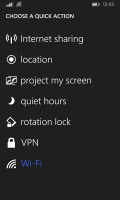 Customizing the notifications • choosing a quick action button
Just like on iOS you can customize the notifications - you can choose whether banners, sounds and vibration are available or not for each notification type.
We also noticed notifications are now handled much faster. We made a little test by ourselves - a Facebook and WhatsApp accounts were configured on an Android, an iOS, a Windows Phone 8 and a Windows Phone 8.1 smartphones.
All three phones - Galaxy Note 3, iPhone 5s, WP 8.1-running Lumia 1020 dinged almost simultaneously, while the WP8.0-powered Lumia 1520 got the notifications 30 seconds to 10 minutes later.
The status bar got updated too. The connectivity icons have no dedicated places in Windows Phone 8.1 - their icons appear left to right, without spaces. There is a specific order though - first is network coverage, followed by Wi-Fi, Bluetooth, then comes vibration, followed by messages, emails and GPS.
The Glance screen, where available, has also been updated. It can now show the same content and notifications as your lockscreen. Or you can also put some text of your choice.
Windows Phone has been criticized for lacking wallpapers as well missing for a long time, which made its homescreen a little boring. Now anymore as with WP 8.1 you can finally set a Start Background. This won't replace the black or white color on your homescreen with a wallpaper. Instead your tiles become transparent and you can look through them into your chosen background. The picture stays static when you scroll down with the live tiles moving on top of it. It's a really cool effect and while simple, it brings the looks of Windows Phone to a whole new level. The only problem is the update works much better with some tiles than with others - contact pictures for example are non-transparent and really get in the way.
There's another change to the live tiles too. Windows Phone 8 GDR 3 update introduced the option to pack even more tiles on a row, but the decision for the tile count was only available to the manufacturer. With WP 8.1 you are free to make up your own mind by going to Settings->Start+Theme and selecting or deselecting the "Show more TIles" option. Thus depending on the size of the tiles you can have up to six in a row, instead of four.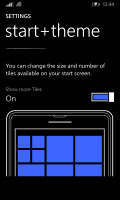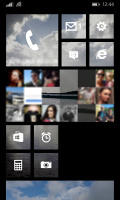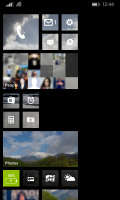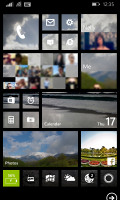 Customizing the Live Tiles count
Another new and welcomed addition to Windows Phone 8.1 is Quiet Hours. This is a feature very similar to Do Not Disturb in iOS and Blocking Mode in Samsung's TouchWiz UI on Android. The Quiet Hours mode can be set to go on and off automatically during pre-defined time interval, plus it can also go on automatically during events you have marked in your calendar. Just like its competing services, Quiet Hours supports the so-called Inner Circle - the notifications from your Inner Circle will always break through. There is also an option to allow calls from people who call you more than two times in less than three minutes.
The multi-tasking has also been improved. Microsoft chose Apple's way of handling apps running in background - most of the apps are suspended upon hitting the Win key and will be resumed once you bring them back. There are others, of course, such as Navigation, Cortana and Battery apps, which will continue to run in background unless you specifically kill them.
The synchronization options have been upgraded as well. You can now sync your settings (theme, app settings and data, Internet Explorer tabs and passwords) and push them across all other devices. The service isn't as powerful as on Windows or iOS, but it does most of the important stuff and is another step in the right direction.
Windows Phone 8.1 still doesn't offer a full-featured and system-wide file manager. Various apps such as Gallery, OneDrive, Music, and Office pack such functions, but they work only within their dedicated folder. There is no available full-blown file manager in the Windows Phone Store either probably due to Microsoft's restrictions. You can still have (non-rooted) access to the mass storage memory on both the internal storage and the memory card via a PC connection. Hopefully Microsoft will change its mind in the near future.
Filter this under investment in the future, rather than an upgrade you can feel right now, but Windows Phone 8.1 brings support for new hardware. The OS now supports displays up to QHD resolution (2560x1440px), dual-SIM setups (Lumia 630 being the first to take advantage of that) and fingerprint scanners. The Windows Phone 8.1 UI also supports on-screen virtual controls (Back, Win, Search), so if a manufacturer decides to get rid of the capacitive keys, they are free to do it.
Even though there are lots of new UI elements and services, including Cortana voice assistant, the Windows Phone 8.1 is as lightweight as it has always been. Sometimes it even feels snappier than before. Microsoft has done indeed a great job optimizing the OS and providing smooth user experience even on two-year old hardware such as one of our test handset (Lumia 1020 and Lumia 1520).