Hello, Master Chief! I'm Cortana.
Sorry Halo fans, Cortana isn't calling you Master Chief unless you specifically set your name to that. That aside, Microsoft's answer to Siri, S Voice and Google Now does pretty well with voice recognition and can help you with a lot of your daily duties.
Cortana is nothing like Google Now though, but very similar to Siri. She recognizes your natural voice commands and questions and provides voice feedback. Voiced over by Halo's Jen Taylor, Cortana probably is the most human-like virtual assistant. There is no male voiceover though, if that happens to be your thing.
So, what can Cortana actually do for you? First you need to personalize it in order to use its full power. Her Settings are called Notebook and are divided into Interests, Reminders, Quiet Hours, Inner Circle, Places, and Music Searches. In Interests you can assign literally everything you like and Cortana will help you track specific news, plan trips, find restaurants or bars, and many more.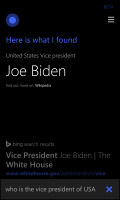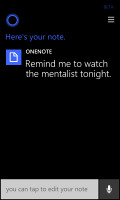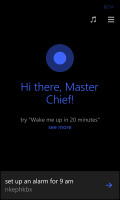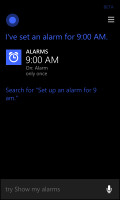 Finding the answers to simple question, making notes and setting alarms are all supported
Cortana supports reminders including people-based ones - you can tell her to remind you of something next time you call some of your contacts. It also supports reminders by location (home, work, university, stores). So it can remind you to congratulate your colleague for their birthday before starting with the work-related questions.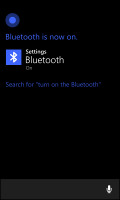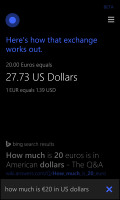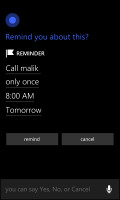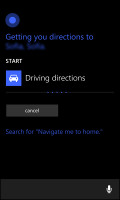 You can turn on your Bluetooth by voice only or check the currency exchange rates
Cortana can also remember places, important people to you (she can even suggest such people based on your activity), plus it can actively control your quiet hours mode.
Cortana can fully interact with your phone and carry out all kind or commands related to it - make a call, send a message, add appointments, take notes, set alarms, play specific music or playlists, navigate you to locations or simply search the web. She can also turn on/off settings, gives you straight answers to simple questions (who is the president of...). Plus she can even tell jokes and sing songs, even if we don't see her winning Grammy anytime soon.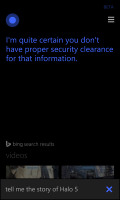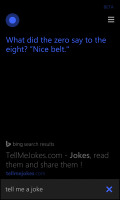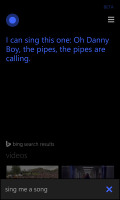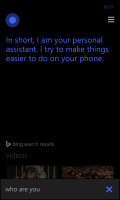 Cortana is doing all she can to help you, but
Cortana is also capable of checking the traffic in your city and she will remind you to leave early or if your bus is delayed because of bad traffic. It can also provide alternatives routes to avoid those traffic jams.
Unique among virtual assistants, Cortana can also forward your commands to third party apps, so you can for example ask her to open Skype and call some of your contacts. Only Skype, Facebook and Twitter are said to support that functionality at launch, but others should follow sooner rather than later.
As far as the speed of voice recognition is concerned, WP's virtual assistant does a fine job. Words are recognized almost in real time, although the accuracy often leaves something to be desired. Thick accents and noisy environments don't play nice with Cortana and often result in queries not being properly recognized.
Microsoft reminds you Cortana is still in beta and she will be capable of much more once it upgrades to official. Siri can do a lot more than Cortana today, while Now with its automatically appearing cards is probably the most useful of the bunch but those had quite a head start. Microsoft is promising it is developing new features as you are reading this and they will come once they are ready.
We'd also like to see Cortana hitting other regions and languages as the US is the only supported one for now. The good news is you can bypass that limitation by simply changing your region in the settings menu - no complicated hacks required.