Enhanced phonebook
The People Hub on Windows Phone 8.1 got a small but very important update. Every contact can now be linked easier to another contact. There is a brand new page on each contact called Connect. There you can choose an app, let's say Viber or WhatsApp, and then you can link the app-specific contact to your phonebook friend.
The Dialer's call log also got two long awaited features - a dedicated shortcut to go to the contact's page in People Hub and call time duration. Yes, it took Microsoft years to add that, but it's good that it's finally here.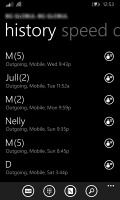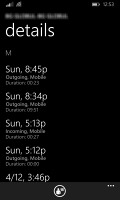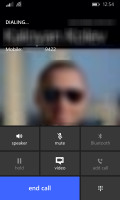 The call log • the in-call screen
Another handy option is the video-call button within the in-call screen. If you are in a call and hit the video button, your call will be automatically converted into a free Skype video chat. Of course, the other user must have a Skype client installed plus an active internet connection.
Messaging Hub with new options, Wordflow keyboard
The Messaging hub looks exactly like on Windows Phone 8, but once you open a thread you'll notice two new options - shortcut to go to the contact's full details in People Hub, plus a settings to mute the thread. If you choose Mute, then you'll stop receiving any notifications for incoming messages from this number, though the messages will still be saved in the thread.
While retaining the same looks, the virtual keyboard now supports word flow - a Swype-like input method allowing you to quickly input words without lifting your finger by swiping through the letters. It is extremely accurate and you'll fall in love with it. It already managed to set a new Guinness Record for typing on virtual keyboard. It works just like any Swype-like keyboard, but Microsoft made sure theirs is the best. We can just confirm it works like a charm.