Multimedia upgrades
Windows Phone 8.1 has two different apps for playing multimedia content - Music and Video. The user interface on both of them is very similar to Xbox's UI. You can explore paid content (songs, albums, movies, TV shows) as well as your own uploaded multimedia files from these apps. The FM radio (where available) is still found within the Music app but it also has its own app.
If you have purchased songs or movies on another Windows device, it will automatically sync on your current Windows Phone handset and you'll get access to it. There is even no need of downloading it, Microsoft can just stream it to your phone.
There is a brand new Podcasts app, which will store and play your downloaded or uploaded podcasts for you. There is a dedicated search field, which will initiate a Bing search for your favorite podcasts.
The Photos hub has also been tweaked. Now your photos are automatically marked and divided by date in your Camera Roll and you can explore them by selecting a specific month. Albums and Favorites are naturally available.
Camera gets burst mode
If you don't own a PureView Lumia phone, then you'll appreciate the camera upgrades Windows Phone 8.1 is bringing to the OS. The UI has been refined a little, you can now choose your viewfinder settings plus you can set a default shooting mode - camera, video or burst.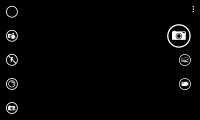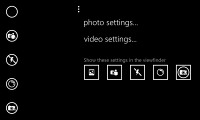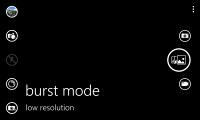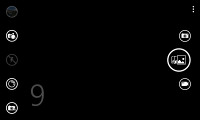 The camera's viewfinder • Burst mode in action
The burst mode can shoot up to 13 pictures and then you can choose which ones you want to save.