Connectivity
The connectivity department of Windows Phone got a major boost with the 8.1 update. The OS now supports VPN connections, Miracast and it comes with the powerful Wi-Fi Sense app.
Miracast is currently supported only on the Snapdragon 800-powered Nokia Lumia 1520, Lumia Icon and Lumia 930, but as new smartphones are announced that list should be quickly expanded. Microsoft has added a new options in Settings - Project My Screen. Here you can either choose to work with Miracast (if supported) or connect your Lumia to your TV via a cable.
VPN setup is really easy with all basic settings supported.
Wi-Fi Sense comes integrated within the Wi-Fi manager. It can automatically connect to password-free Wi-Fi hotspots. It can also share your favorite Wi-Fi networks (password protected or not) with your Outlook.com, Skype or Facebook contacts. If they are using Wi-Fi Sense as well they'll get immediate access to your networks (they won't ever see the password) and vice versa.
Internet Explorer 11
Internet Explorer 11 is the newest version of the Microsoft's mobile web browser. You bet it went through an extensive upgrade and while in previous versions you only had to use IE because you had no other options, this time around it's actually pretty nice so you might even enjoy it. IE 11 is what the Windows Phone browser should have been from the start.
Internet Explorer 11 has lots of new features - private browsing, reader mode, unlimited tab support with new UI, saving passwords, tab and bookmark sync across devices and support for inline videos to name a few.
The first new feature you'll notice is the unlimited tab support in IE 11. The tab manager has new UI too, plus a dedicated shortcut right next to the address bar. InPrivate browsing is available too, you can launch a separate incognito tab from the tab manager.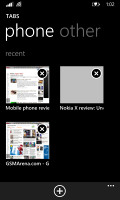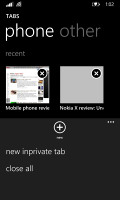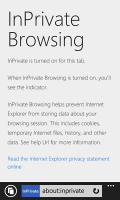 The tab manager • in-private browsing
Once you open an article on the web you'll notice a small book icon appearing in the address bar. If you tap it you'll activate the so-called Reader mode. It does the same as its iOS namesake - strips down everything but the article itself and its pictures. This way you can enjoy seamless reading of long articles without any unnecessary content or ads. You can configure the Reader background color and font size from the IE 11 settings.
IE 11 also supports inline video playback. In case the browser is capable of playing an embedded video, you will be able to do it right within the article. No external players or pop ups are needed.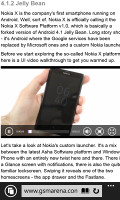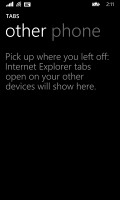 Inline video playback • synced tabs appear here
The new web browser also supports tab and bookmark sync across devices. This means you can start exactly where you left off your IE on Windows PC or slate. It's a nice feature already available in Safari and Chrome, and it is nice to see Microsoft is getting there too.
By the way you can pin web pages to your start screen. You'll get a Live Tile, which will show the latest updates to this website. The feature is still in beta, but Microsoft should finish it in time for the release.
Back and Forward gestures have been added too - just swipe from the left or right edge of the screen. Yes, just like on iOS.
Another important upgrade in IE 11 is the option to remember passwords and sync them to other devices. You no longer need to type in the same usernames and passwords over and over again.
The Internet Explorer 11 web browser, just like the overall UI, seems to be faster, with excellent page load times and scrolling performance. We've enjoyed the new version and we think you'll like it too.