Microsoft Store
The Microsoft Store now supports automatic app updates. You can choose whether those happen only when connected to a Wi-Fi network, or cellular data is allowed as well. Check for updates button is available, but now the Store checks for available updates quite a few times a day, so you'll probably won't need to use this key regularly. In previous versions of Windows Phone the Store was really slow on checking for updates - some notifications came weeks after the new version of the app has been seeded! It's great Microsoft fixed that too.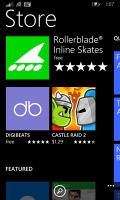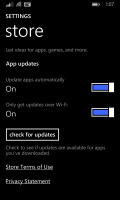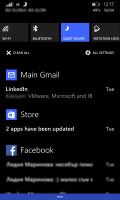 The automatic updates settings in Store • apps updates automatically
We've already mentioned the Windows Store has grown bigger over the years, but it is still behind the Apple's and Google's repositories. We were curious how many of today's most popular Android and iOS apps are available on Windows Phone. We've searched for the top 25 free and paid apps from the AppStore and Play Store in the Windows Phone Store, and here is what we have found. Note that platform specific apps such as NOVA Launcher, Titanium Backup, Swift/Swype keyboards (available in WP8.1 by default), Office Suite Pro 7 (MS Office available for free), and widget packages were not included in those lists.
Available (as of April 22, 2014)
Missing (as of April 22, 2014)

A Dark Room
The Amazing SpiderMan 2 (coming soon)
Bloons TD 5
Survivalcraft
The Game of Life
NBA JAM
GTA: San Andreas
2048
Instagram
Facebook
Facebook Messenger
Pandora
Frozen Free Fall
Spotify
Skype
Kik Messenger
Modern Combat 4
TuneIn Radio
Quizduell
Angry Birds Rio
Monopoly
Flightradar24
Rayman Fiesta Run
Plants vs. Zombies
Viber
Subway Surfers
WhatsApps
Mt Talking Tom
Zombie Tsunami
Adobe Reader
Flishlight
Shazam

Cut The Rope 2
Goat Rampage
Minecraft Pocket Edition
Heads Up!
Afterlight
Hitman GO
Card Wars
The Survival
Plague Inc.
NBA 2K14
Papa's Freezeria
Unpossible
Union
Sleep Cycle Alarm
Terraria
RBI Baseball 14
Scribblenauts
Don't Tap The White Tile
Farmville 2
Swamp Attack
Club Penguin
Flappy Smash
Snapchat
Horn
Trials Frtontier
YouTube (requested removal by Google)
What's The Difference
Family Guy - The Quest for Stuff
Clash of Clans
Smash Hit
Pinterest
Power Amp
NFS: Most Wanted
Threema
Worms 2: Armageddon
Tasker
Business Calendar Pro
Retrica
Clean Master FX
Tennis 3D
Swap the Box
Candy Crush Saga
CarX Drift Racing
Final words
Windows Phone 8.1 is a huge step forward, one that Microsoft should really be proud of. The update brings so many new features that whenever we thought we've covered everything, something new popped up.
In its 8.1 iteration, WP is more beautiful than ever and has gained quite a few customization options - an area where the platform still has some catching up to do. It has finally gained a proper notification area, so it can feel on par with its rivals and a smart Cortana assistant for those looking for a more out-of-the-box experience.

The OS is definitely more mature and upgrades are to be spotted all over the place and yet it remains the familiar Windows Phone early adopters fell in love with. You still get a snappy and easy to use, and very social, platform. It is easily recognizable too, thanks to the Tiled interface we're already used to in Xbox and Windows, but now much more powerful.
Windows Phone 8.1 has the simplicity of iOS, and some of the Android flexibility, and while it's unable to beat either of those platforms at their own game it sits comfortably in between, arguably being second best in both aspects. This would mean that for many WP is the most balanced platform out there and that's quite a great position to be in.
Of course, looking at the bigger picture, there's more than the platform itself. An equally important factor for judging an ecosystem is the number and quality of available apps and that's where Microsoft needs to up its game. Still, with the user experience on par, some quality hardware at competitive price points should get the user base growing and that's all the developers really care about. We'll call WP 8.1 a job well done, then!